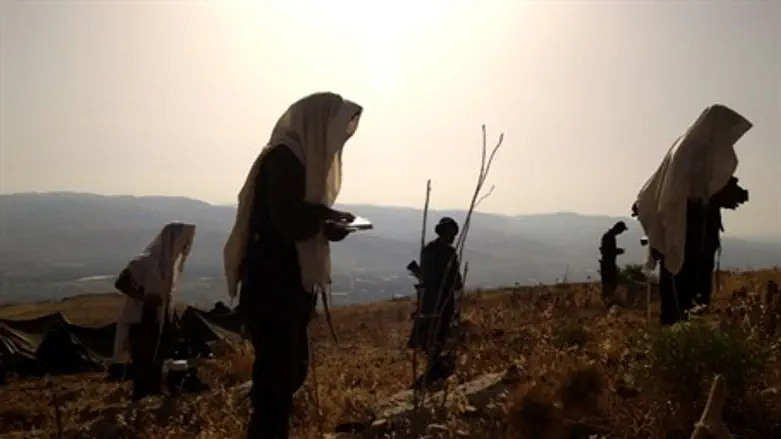 Hareidi soldiers
Flash 90
Ministers on the Committee for Equality in the Burden of Service, a ministerial committee tasked with resolving the complex issue of hareidi-religious army enlistment, met Tuesday with hareidi soldiers.
The ministers sat down for an intimate meeting with combat soldiers in the Netzach Yehuda (Nahal Hareidi) and Shachar Kachol brigades. The soldiers discussed their experience as hareidi men in a largely non-hareidi military.
There are difficulties, they said. "The sudden, extreme change from our normal lives before the army is a tough transition," they related. "We came from a background with very clear, firm rules."
Another difficulty is the hareidi-religious community's stance on military service, particularly now that it has become a front-page issue, and there is discussion of coercion and a quota for full time yeshiva students, they said. "Most of us take off our uniforms before entering our neighborhoods, or hometowns," one explained.
The head of Yesh Atid party, Yair Lapid, lashed out at the hareidi community in the Knesset this week and blamed them for the budget deficit.
However, soldiers in the Netzach Yehuda brigade said they believe military life is far more friendly to the hareidi-religious lifestyle than most in the hareidi community believe. "It will be hard to convince them [to enlist], but as soon as they are here they will be pleasantly surprised, and they will become ambassadors," they told the ministers.
Committee head Yaakov Perry, the Minister of Science and Technology, said afterward, "I have to admit, I was excited by the conversation with the soldiers from the Netzach Yehuda battalion. They epitomize the connection that we're aiming for."
"We have a difficult mission, but this is doubtless a historic decision," Perry added. "Countless people and countless committees have debated this over the past 20 years – the time has come to make a decision."
"I am certain that we will need to get things going, and we will, gradually, while maintaining the value of Torah," he said.
Minister of Culture and Sport Limor Livnat said, "Equal share in the burden [of military service] is a very important principle and goal. Our job is to bring it about without bringing one sector of society to attack the other."