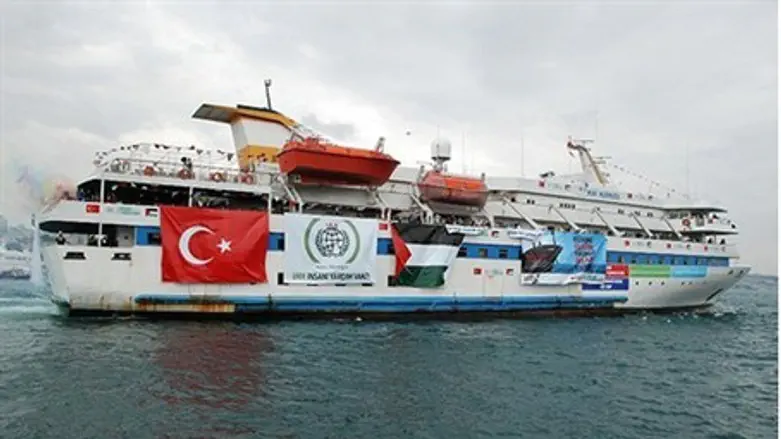 Mavi Marmara
AFP photo
Israeli and Turkish officials made progress in talks Monday on compensation over the 2010 Israeli raid on a Gaza-bound ship, AFP reported.
"This problem will be solved at a second meeting, and if not enough, at a third one," Turkey's Deputy Prime Minister Bulent Arinc, who leads the Turkish team, told reporters after meeting the Israeli officials in Ankara.
"We both agree that this is a problem that needs to be swiftly resolved," he added, according to AFP.
If resolved, a major stumbling block to upgrading bilateral diplomatic ties would be overcome, Arinc said.
He acknowledged, however, that neither the timetable nor the venue for a second get-together were yet clear.
The Monday meeting was the first stage of what Turkish officials have said would be a multi-step diplomatic process.
"A second meeting will take place within days, not weeks," another Turkish negotiator, Feridun Sinirlioglu, was quoted by AFP as having said.
"Today's meeting was positive ... We didn't discuss the amount of compensation but rather a general framework, parameters and principles," he added.
The Israeli Embassy in Ankara refused to comment on the closed-door talks, which saw Israeli officials visit their formerly strategic ally for the first time in almost three years.
The IDF's Naval Commando encountered extremely violent resistance in 2010, when it boarded the Mavi Marmara ship and wound up killing nine of the people on board.
The families of the dead activists, who were members of the IHH pro-terror group, want to receive $1 million each. IDF Radio reported on Monday that Israel was prepared to pay no more than $150,000 to each family.
Arinc warned that the final word on whether a deal would work rested with the families of those killed.
"It's a legal right for victims' families to demand compensation," said Arinc, adding that it would be up to them to accept a possible deal or go ahead with the court process.
"We, the government, will not take any action which will upset them," he assured.
He urged the families to "trust the government" and avoid public statements which could lead to misunderstandings.
Prime Minister Binyamin Netanyahu apologized last month to his Turkish counterpart, Recep Tayyip Erdogan, for the deaths of the nine Turks in the 2010 flotilla.
Netanyahu, in addition to the apology, agreed to compensate the families of the nine Turks, while Erdogan promised to cancel the legal proceedings his country launched against IDF officials.
One of the flotilla participants from the Mavi Marmara has already indicated he would give all the compensation money he receives to Hamas and Islamic Jihad terrorists.