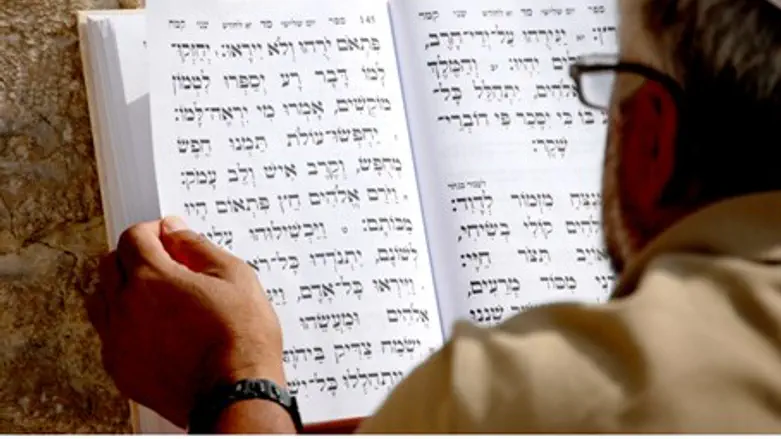 Siddur (prayer book)
Israel news photo: Flash 90
A campaign to stop buying prayer books that lack the Prayer for Soldiers is gaining public support, organizer Chaim Yoavi Rabinovitch told Arutz Sheva.
Rabinovitch recently sent a letter to his roughly 18,000 contacts suggesting that religious-Zionist individuals and synagogues refuse to buy Hebrew-language siddurs (prayer books) that do not include the prayer for IDF soldiers that has been standard in the religious-Zionist world for several decades.
"A sample investigation I did showed that most of the prayer books in religious-Zionist and Mizrachi synagogues do not include the prayer for the state or the prayer for IDF soldiers," Rabinovitch explained in his letter.
In each synagogue, he wrote, he asked why the prayer books were missing the two prayers. "They told me that the prayer books were donated, and that [the donors] purchased the hareidi-religious prayer books because they were much cheaper," he said. Specifically, donors giving large numbers of books preferred Tefilat Kol Peh to Rinat Yisrael, which does contain the prayers.
Hareidi-religious prayer books and non-hareidi prayer books are usually identical except for the prayers in question.
"Do not bring prayer books into your synagogue that do not include a prayer for our children who are sacrificing themselves in order to protect our nation and land," Rabinovitch urged. "We must do at least this for the soldiers in combat."
He added, "Why should we provide an income for somebody who is unwilling to put the prayer for Israeli soldiers into his prayer book?"
There has been significant public support for the campaign, he said. There have also been those who have accused him of being against hareidi-religious Jews, an accusation he rejects.