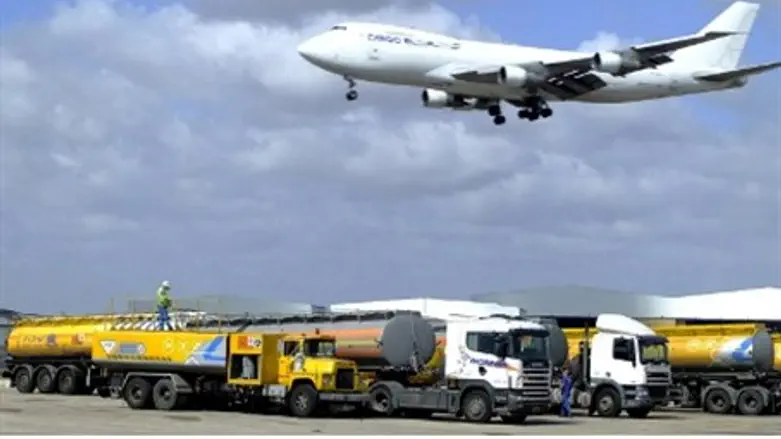 Airplane landing at Ben Gurion
Israel news photo: Flash 90
The Israel Manufacturers Association appealed to the National Labor Court on Sunday night against the airline workers' strike. The Court has been asked to issue an injunction ordering the strikers to return to work immediately.
The President of the Labor Court, Justice Nili Arad, received the appeal and instructed both sides to prepare their cases and present them by 12:00 p.m. on Monday. The discussion will begin at 6:00 p.m.
Employees of Israel's three airlines - El Al, Israir and Arkia - launched a strike at 5:00 a.m. on Sunday morning, causing many flights to be cancelled.
The airline workers are protesting the "Open Skies" program, which will significantly increase the number of foreign carriers permitted to fly to Israel, resulting in lower airfares and an increase in the number of tourists coming to Israel. As a result, workers at Israel's three airlines fear for their jobs.
Despite the strike, Transportation Minister Yisrael Katz brought the Open Skies program to a vote before the Cabinet as scheduled on Sunday. The move was approved, causing the airlines to announce they would be continuing the strike indefinitely.
Histadrut chairman Ofer Eini announced that as an act of solidarity with the strikers, the Ben Gurion Airport will also be shut down for several hours Tuesday.
Flights in and out of Israel's main airport will be suspended during the duration of the strike.
"Implementing the Open Skies agreement in its current format will have severe ramifications which would fatally and irreversibly harm civilian aviation in Israel," Eini said in a letter to Prime Minister Binyamin Netanyahu.