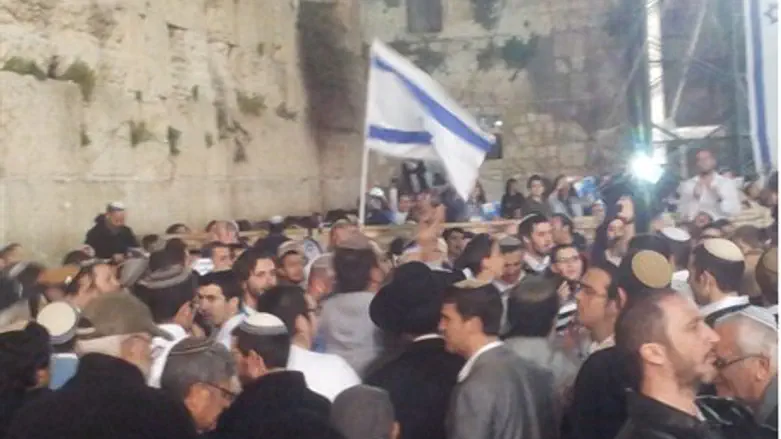 Celebrations at the Kotel
Rabbi Ben Dahan's bureau
About 10,000 people are estimated to have attended the central Yom Haatzmaut prayer session at the Kotel Monday evening.
The citizens who attended the prayer were addressed by Deputy (and de facto) Religions Minister, Rabbi Eliyahu Ben Dahan (Bayit Yehudi). Rabbi Ben Dahan said that Yom Haatzmaut, or Independence Day, is the day on which the nation of Israel's power is revealed.
"This is the day that G-d has created, let us sing and rejoice in it," (Psalms 118:24), he recited.
Rabbi Ben Dahan quoted Rabbi Tzvi Yehuda Hacohen Kook ztz"l, who said that on the original Yom Haatzmaut – on Iyar 5, 5708, according to the Hebrew calendar – "the courage of the Nation of Israel to stand up to its friends was revealed; The courage and bravery of the leaders of the country to declare, against all odds, the establishment of the state of Israel, and the spiritual strength to overcome the fears."
Rabbi Ben Dahan mentioned that the Temple Mount is located just behind the Kotel and wished that one day, "we will merit seeing the rebuilding of the Temple."
Also in attendance at the prayer were Chief Ashkenazi Rabbi, Rabbi Yonah Metzger, MK Zevulun Kalfa and MK Yoni Chetboun of Bayit Yehudi.
The central Yom Haatzmaut prayer was led, as it is every year, by Rabbi Uri Sherki and Rabbi Yehuda Ben Yishai, with the intent of connecting all segments of the nation to the Kotel and to the Temple Mount.
The prayer was conducted in a formula that was intended to connect secular and religious Jews, both Sephardic and Ashkenazi, and was accompanied by song and dance to praise G-d and give thanks for the miracle of the establishment of the state of Israel.