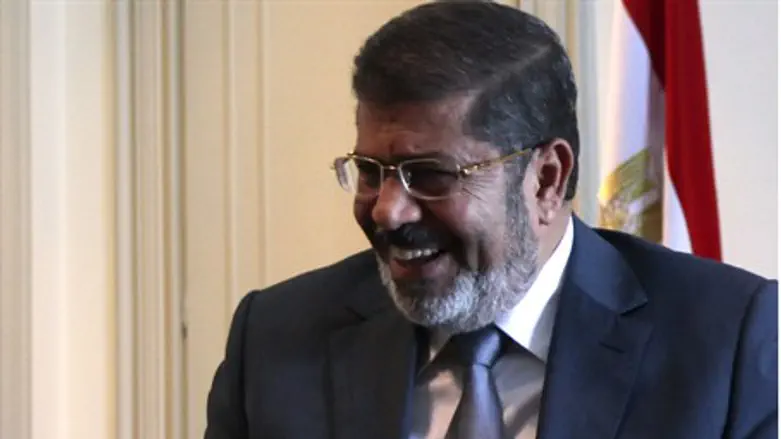 Mohamed Morsi
Israel news photo: Flash 90
Egypt is largely responsible for helping to maintain the cease fire between Israel and Hamas terrorist-run Gaza, says an expert at Bar Ilan University's Begin-Sadat Center for Strategic Studies.
Egyptian President Mohamed Morsi has been a very active advocate of keeping the peace, says Hillel Frisch.
Over the past several months, Egypt's Army Corps of Engineers has flooded dozens of tunnels used to smuggle arms and other contraband from the Sinai into Gaza near Rafiah.
The Egyptian Navy also seized a Togolese-flagged ship on April 4, carrying in its hold Iranian weaponry that appeared to be headed to Gaza, Frisch told Defense News this week.
"So far, Morsi, despite his Muslim Brotherhood credentials and personal convictions in support of Hamas, is putting Egypt's national interests first," he noted. "He's doing more than [former President Hosni] Mubarak ever did."
Mubarak, deposed after a 31-year reign in 2011, currently is incarcerated in a military hospital awaiting trial on a variety of charges ranging from murder to corruption and abuse of power.
The United States has supported Egypt in its efforts to keep the peace, allocating some $1.55 billion in foreign aid to Cairo in the 2014 budget request by the White House. Of that, $1.3 billion is requested for military financing, and $250 million is earmarked for economic support for "a successful transition to democracy while assisting the Egyptian government to address obstacles for sustainable economic growth and recovery."