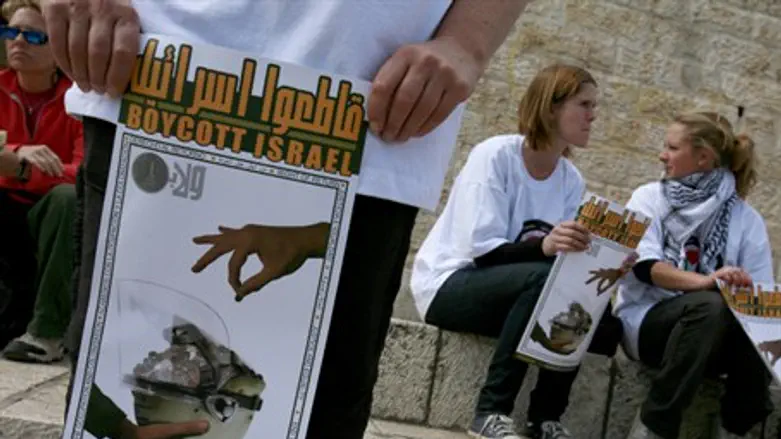 posters calling to boycott Israel
Flash 90
South Africa has imposed new rules requiring that goods imported from Judea, Samaria and eastern Jerusalem display special labels, a government official told AFP on Thursday .
"We have all agreed that goods must be labelled from where they are coming from, so that consumers can make an informed choice," Sidwell Medupe, spokesman for the Department of Trade and Industry told AFP.
"According to our consumer protection act, we say consumers have the right to know the origins of the goods," he added.
The new rules stipulate that goods will no longer carry "Made in Israel" labels but instead will have to be specific about the exact origin of the goods.
Medupe explained that goods coming from Gaza will be labeled Gaza-Israel goods, those made in Judea and Samaria will be labeled West Bank-Israeli goods and imports from eastern Jerusalem will be tagged East Jerusalem-Israeli goods.
A government notice requiring that such products are clearly marked to inform consumers that the origin is not Israel, will be published by next week, said Medupe, according to AFP.
Last year, South African Minister Rob Davies issued an announcement warning merchants "not to incorrectly label products that originate from the Occupied Palestinian Territory (OPT) as products of Israel."
He later rejected "with utter contempt" suggestions that there were racial motivations for his move, saying his department was neither seeking to promote a boycott of Israeli goods nor to prevent the entry of such products into South Africa.
The move was met with anger both by Israel, which summoned the South African ambassador for clarifications, as well as by the African Christian Democratic Party (ACDP), which staged a rally in Pretoria against the decision.
Medupe, however, told AFP that local Jewish leaders are now in agreement with the move.
"Everybody has accepted that consumers have a right to know the origins of their goods so that they can make a choice to buy or not to buy them," claimed Medupe.
Last month the Dutch government issued a first of its kind directive to retail chains in the country, telling them to mark Israeli products that were manufactured in Judea, Samaria, eastern Jerusalem and the Golan Heights.
The move made the Netherlands, considered one of Israel's closest friends in Europe, the second country in the European Union, after Britain, to ask retail chains to mark products made in areas beyond the 1949 armistice line.
The EU said back in September it was considering imposing a ban on products from Jewish communities in Judea and Samaria.