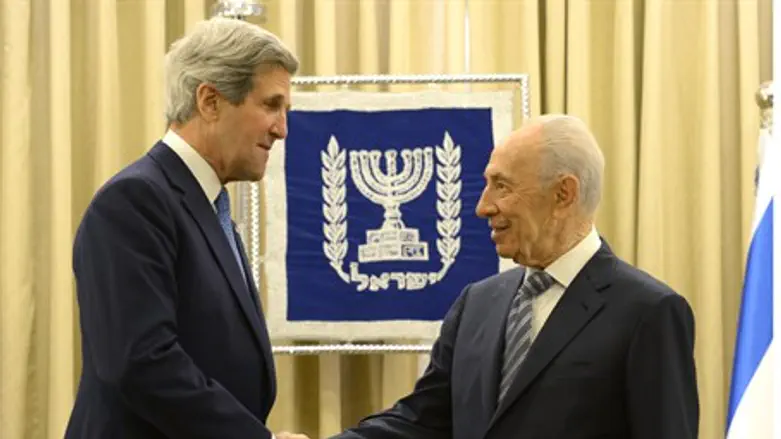 John Kerry, Shimon Peres
Israel news photo: Flash 90
U.S. President Barack Obama is not bluffing when he says he will stop Iran's nuclear program, Secretary of State John Kerry said on Monday.
Speaking after a meeting with Israeli President Shimon Peres in Jerusalem, Kerry said that Israel has a friend in President Obama, his administration and the U.S. Congress.
"We understand the nature of the threat of Iran. And as the President has said many times -- he doesn't bluff. He is serious. We will stand with Israel against this threat and with the rest of the world, who have underscored that all we are looking for is Iran to live up to its international obligations," Kerry said.
"No option is off the table. No option will be taken off the table," he reiterated.
Kerry said that while the United States would still seek a diplomatic resolution to Iran's nuclear aspirations, "our eyes are open, and we understand the clock is moving. And no one will allow the diplomatic process to stand in the way of whatever choices need to be made to protect the world from yet another nuclear weapon in the wrong hands."
The statement came several days after talks in Kazakhstan between Iran and world powers over Tehran's nuclear program failed to break the deadlock in the crisis.
The world powers had offered some easing of the sanctions that have hurt Iran's economy in the past two years in return for Tehran accepting limits on its nuclear program, but Iran's chief nuclear negotiator Saeed Jalili indicated that Tehran wanted to see more put on the table by the world powers to "gain the confidence" of the Iranian people.
Unlike at the previous round of talks in Almaty in February which ended more cordially, the two sides did not agree a time and a place to hold the next meeting.
Jalili offered little hope of Iran offering concessions on the main sticking point in the talks -- Tehran's insistence on its right to enrich uranium on its soil.
Before his visit to Israel several weeks ago, Obama said Iran is "over a year or so" from getting a nuclear bomb.
He emphasized that should diplomacy fail, all options remained "on the table" for stopping Iran.
Former Foreign Minister MK Avigdor Lieberman said Sunday that Israel must ignore calls to wait when it comes to Iran's nuclear program.
The failed talks this weekend "prove that in this generation, too, defending the existence of the Jewish people will remain the task of the state of Israel," he said.
"After all, the only state that Iran is threatening to destroy, while developing nuclear weapons, is the Jewish state," he said.