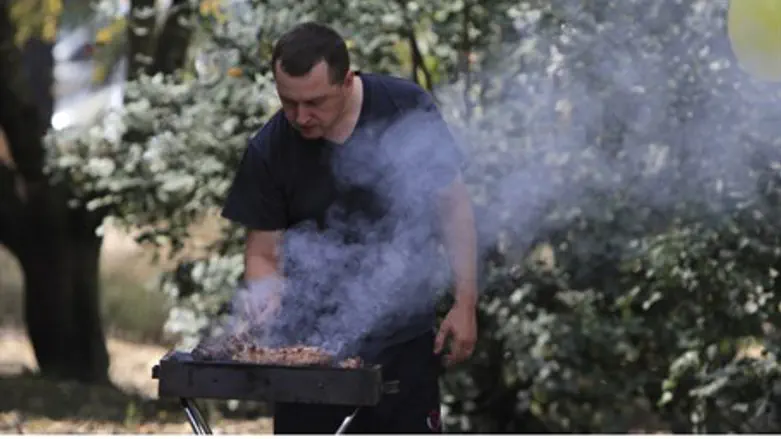 barbecuing
Flash90
A Holocaust Memorial Day "libel" against hareidi Jews – in which hundreds of them were accused of holding a mass barbecue on Sunday evening – turned out to be a just that, according to an Israel Radio editor who, responding to an emergency social media post by the head of a secular group, rushed to Sacher Park in Jerusalem to check things out. Editor Yotam Barazani had been led to believe that he would find hundreds of hareidim holding a barbecue at the park, while barely a kilometer away the leaders of the country were participating in somber ceremonies in memory of the six million. But instead he found just a few dozen teenagers – none of them hareidim, apparently.
Barazani posted his experiences on his Facebook page Monday. He explained that he had received a message from Ron Melamed, the deputy director of the Yedid organization, which places among its goals increasing solidarity among Israel's poor – and fostering "democratic choices," especially in the area of religion and the state. In the message, Melamed wrote that he had observed something that had "shaken" him. "Sacher Park looks like a giant barbecue," Melamed wrote. "Smoke is covering the roads, and the kids are having a party. The hareidim are celebrating. It is shameful, simply shameful."
The message was turned into a report on Israel Radio Monday morning, with news show hosts slamming the "partyers" for their insensitivity in having a party on Yom Hasho'a eve. The report featured alleged conversations with hareidim in the park, who supposedly told a reporter that they did not see the barbecue as disrespect – and in fact, they respected the memory of Holocaust victims in much better ways than secular Israelis did. "You stand for a siren for a few minutes, but we spend days saying prayers and Psalms for them," one unnamed hareidi was quoted as saying. "Anyway today is a vacation day, so why not have a barbecue?"
But Barazani put a stop to the reports when he came on duty. "I received the message about the barbecues at 10:09 PM, and decided I had to see for myself," he wrote. "'Such insensitivity! It just cannot be,' I said to myself. Less than an hour later I was on my way home and decided to to stop at the park and see for myself. I even said to myself that if the story was true I would immediately run back to the newsroom and make an item of it on the next news broadcast."
But there was no news to make, Barazani wrote. "At 11:05 PM I saw one small portable grill, and I counted 5 or 6 groups, with no more than a total of 35 people. There were about 30 people on the soccer field. As far as I could tell, none of them were hareidim.
"There are two possibilities here," Barazani continued. "The big barbecue ended right before I got there, or Melamed got carried away. I think the latter is more correct: In the photo he posted there were no more than 13 people at a barbecue.
"This hatred of fellow Jews truly angers me," he added.