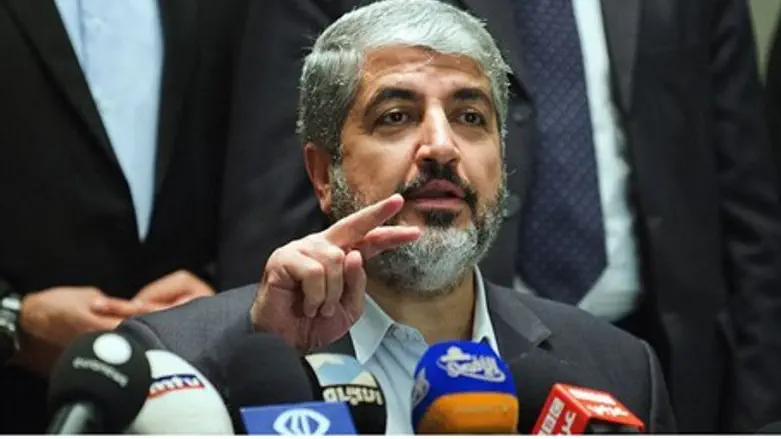 Khaled Mashaal
AFP photo
A Syrian regime newspaper on Wednesday slammed Hamas and its leader, Khaled Mashaal for breaking with Damascus, accusing them of giving up on resistance against Israel.
The report comes two days after Mashaal's re-election as head of Hamas's politburo for another four-year term, reported AFP.
Hamas has shifted "the gun from the shoulder of resistance (against Israel) to the shoulder of compromise", the Al-Thawra daily said.
"Today, as Mashaal becomes the head of Hamas for the fifth time... the West Bank, Gaza and the whole of occupied Palestine have no reason to celebrate," wrote the newspaper.
Mashaal "cannot believe his luck. After an acclaimed history of struggle, he has returned to the safe Qatari embrace, wealthy and fattened in the age of the Arab Spring's storms," the newspaper added.
Despite previously being close allies, there has been a rift between Hamas and the Syrian regime ever since the uprising against President Bashar Al-Assad began.
In the first months of the uprising, Hamas's leaders expressed support in principle for the struggle of the Syrian people while also highlighting the importance of the movement's historical relationship with the Syrian regime.
However, as the rift deepened, reports surfaced that Hamas is moving its headquarters from Damascus to Egypt and the terror group is strengthening itself in the Sinai and in Qatar.
Some reports claimed that the Damascus-based Hamas leadership left Syria after the Syrian government asked the Hamas leaders to leave. In November, Syrian security forces shut down all the offices belonging to Hamas in the country.
The Assad regime has fiercely criticized Mashaal's decision to break with the regime, recalling Damascus's willingness to host the Hamas leader when other regional capitals refused to do so.
Recent reports indicated that Mashaal had expressed his support for a two-state solution to end the Israeli-Arab conflict. Several months earlier Mashaal claimed in a CNN interview that Hamas would accept a Palestinian state along the indefensible pre-1967 borders but would refuse to recognize Israel's right to exist.
Hamas later denied the report that it had supported the two-state solution.