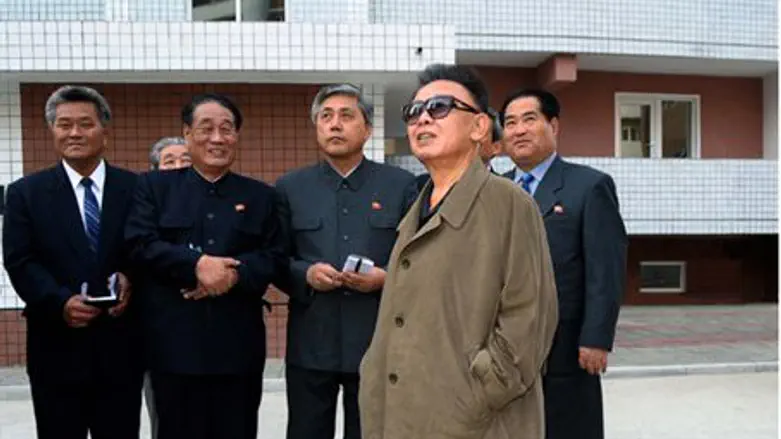 North Korean leader Kim Jong Il
Israel news photo: Republic of Korea
The United States appears to be running out of patience with North Korea, and Tuesday issued a warning to Pyongyang.
Secretary of State John Kerry called on North Korea in a statement to halt its "provocative, dangerous and reckless" rhetoric and actions.
Kerry warned the U.S. would defend itself and its allies, South Korea and Japan, against any threat from North Korea.
The statement came in response to the recent stream of escalating invective from North Korea towards the three countries that followed Pyongyang's recent nuclear tests and resulting worldwide condemnation.
The country renewed its hostility allegedly in response to the latest annual joint military drills carried out by South Korea and the U.S., and remarks made by Seoul's newly-elected president Park Geun-hye.  
North Korea has threatened in video clips and increasingly hostile statements to restart a long-dormant nuclear reactor and ratchet up production of nuclear weapons, which it said it intends to aim at the U.S. The North's announcement earlier Tuesday that it would reopen Yongbyon reactor -- its source of weapons-grade plutonium -- triggered international alarm.
United Nations Secretary-General Ban Ki-moon warned Tuesday that the Korean peninsula crisis could spiral out of control, after the announcement that North Korea intends to revive its nuclear reactor to feed its atomic weapons program.
"Nuclear threats are not a game," Ban said, according to AFP. The series of aggressive statements by Pyongyang leader Kim Jong-un have prompted the deployment of nuclear-capable US B-52s, B-2 stealth bombers and a U.S. destroyer to South Korea.
On September 6, 2007, Israel reportedly destroyed a nuclear plant in Syria that was being built with the assistance of North Korea.
Western and Israeli security experts suspect Syria may yet possess tons of unenriched uranium in storage, and that any such stockpile could potentially be of interest to its ally Iran for use in Tehran's nuclear program.