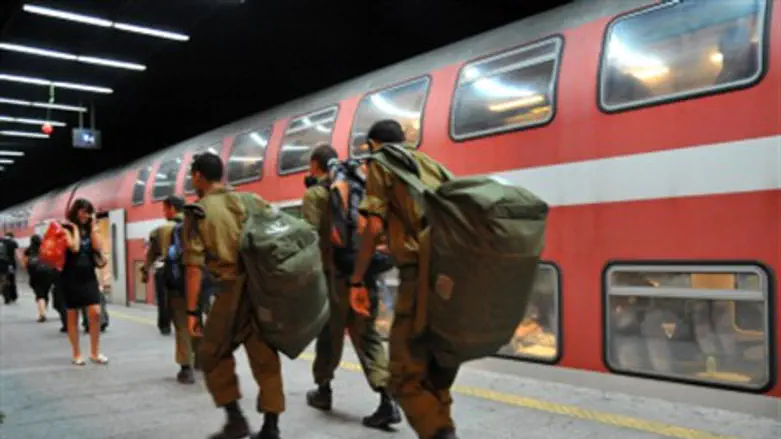 Soldiers at train station
Israel news photo: Flash 90
The government's Nature and Parks Authority has kicked off a campaign against the creation of a train track to Eilat – a plan authorized by the Transportation Ministry and the government's National Building and Planning Council.
The plan, which was approved last month, will see a 260-kilometer (167 mile) track built through the Negev.
The Nature and Parks Authority is seeking a change to the proposed path of the train in order to prevent an impact to the natural environment in the area.
"We all are in favor of the train – it's an effective, cost-efficient and fast form of transportation. But before we jump on the southbound line, we need to stop for a minute and look at the environmental price we would pay for the proposed train line from Be'er Sheva to Eilat," the Authority said on its website.
"Only 10 kilometers would run through tunnels," the statement continued. "The track itself will include high embankments, bridges, electric poles and fences that will chop up the pastoral view."
"The result: irreversible damage to the view, harm to wildlife travel, and the closure of waterways," it concluded.
The Nature and Parks Authority proposes that the proposed route be changed to take the train through regions that are already affected by human activity, and in addition, that it go through two tunnels for a total of 27 kilometers underground.