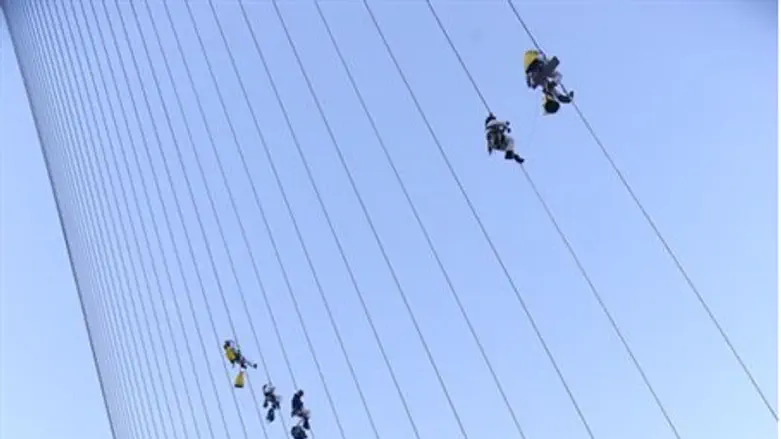 climbing the string bridge (archive)
Dudu bar Sela
Police arrested eight environmental activists Thursday after members of the group chained themselves to a bridge in Jerusalem, demanding US President Barack Obama halt exploratory drilling in the Arctic, an official said. "We have taken in eight activists for questioning, but there are still others at the site," police spokesman Micky Rosenfeld told reporters.
Earlier, several activists wearing white overalls and yellow helmets used climbing gear to scale Jerusalem's soaring Bridge of Strings, inching up the metal cables which span a busy intersection at the entrance to the city. It was unclear immediately if the activists were Israelis or had entered Israel on tourist visas.
"Obama: Stop the drilling in the Arctic" read a sign in Hebrew unfurled by the protesters climbing the structure, which at 119 meters (390 feet), dominates the Jerusalem skyline.
The protest came a day after Obama began his first official visit to Israel since first being elected president more than four years ago.
Designed by Spanish architect Santiago Calatrava, the bridge has 66 "strings" which are connected to a single towering cantilevered mast in a design resembling the harp of the biblical King David. It is located at the city's western entrance over the main road leading to Tel Aviv.