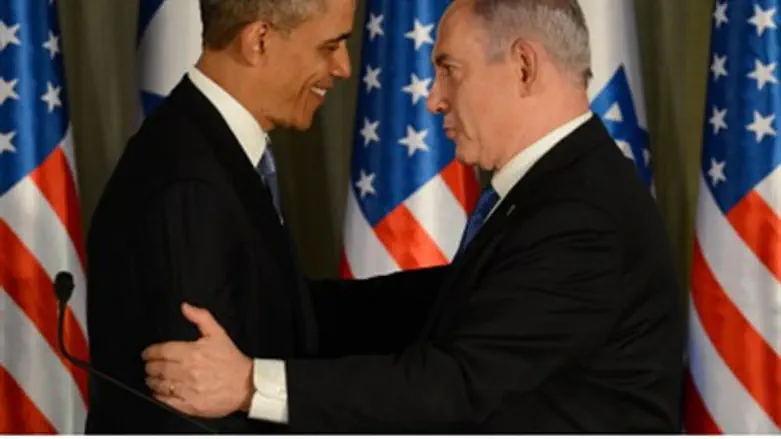 Netanyahu embraces Obama
Israel news photo: Flash 90
U.S. President Barack Obama said on Wednesday that Israel and the United States were opening talks on extending U.S. military aid beyond 2017.
Speaking beside Prime Minister Binyamin Netanyahu at their joint press conference, Obama also made clear that despite a budget crunch in Washington there would be no interruption to funding of Israel's Iron Dome anti-missile system.
"As part of our long-term commitment to Israel's security, the prime minister and I agreed to begin discussions on extending military assistance to Israel," Obama told reporters.
"Our current agreement lasts through 2017, and we've directed our teams to start working on extending it for the years beyond," he added.
The last U.S. military aid deal to Israel which started in 2007, saw the Jewish state secure $30 billion over the decade, which was to be spent on U.S. and Israeli military equipment.
Netanyahu made sure to emphasize Obama's declaration when he answered a question from a reporter at the end of the press conference.
"It might have escaped you but it hasn't escaped me and that is the president announced that in addition to all the aid that his administration has provided, including Iron Dome, including defense funding for Israel during very difficult times, he has announced that we're going to begin talks on another ten-year process arrangement to ensure American military assistance to Israel," said Netanyahu.
"I think this is very significant. And I want to express my thanks for everything that you have done and I want to thank you also for that statement you just made. I think it's very, very important," he stressed.