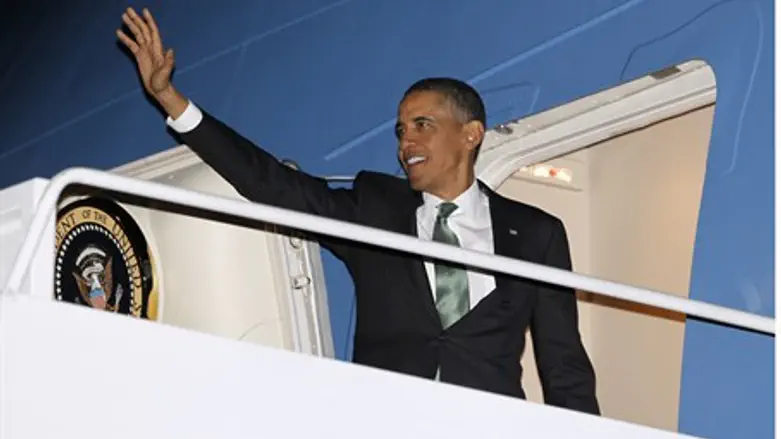 Obama waves as he steps aboard Air Force One
Reuters
US President Barack Obama has arrived, and Israel Police have provided a hotline for the public the access real-time information about traffic snarl updates.
Some 15,000 police officers have been called in to secure the U.S. president's visit to Israel, in addition to the 600 members of the presidential entourage.
There are 2,000 police barriers positioned across the Israeli capital alone.
The public is welcome to call the special police hotline for real time updates on re-routing of Jerusalem traffic, at 1-700-553-100.
Traffic control has informed media that Highway 1 from Ben Gurion International Airport to Jerusalem is to closed for an hour effective 13:15 p.m. in addition to other intermittent traffic interruptions.
No parking will be allowed in Jerusalem on the following streets: King David Street from the Malmilla Mall, at Customs Junction, Emil Bhoutta Street, Mapo Street, Lincoln Street, and Washington Street towards King David Street.
Nor will parking will be allowed along King David Street and along the other streets listed for most of the next two days: Admoni, King David, Customs Junction (Mamilla Mall), Agron, Paris Square, Ramban, Rupin, Samuel Wise, Museums Boulevard, Kaplan (between Rothschild and Rupin), Israel Museum parking lot, Arlozorov, HaNassi, Wingate Square, Smolasky, Keren HaYesod, Flumer Square, Balfour, HaAri, Emil Bhoutta.
King David Street will be closed from Wednesday morning until Friday at 12:00 noon from the Mamila Mall (Customs Junction) to Flumer Square. Please note – no parking will be available.