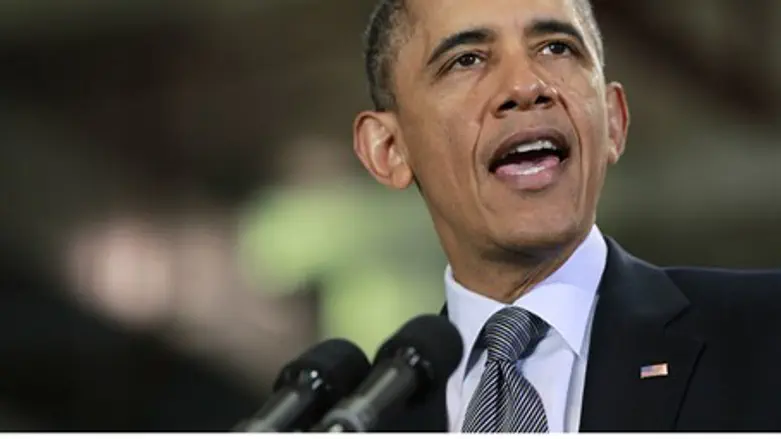 Obama
Reuters
The disturbances in Israel's road traffic because of President Barack Obama's visit are to begin around noontime Tuesday.
Highway 1, from Ben Gurion Airport to Jerusalem, will be intermittently blocked to traffic starting at around noontime, because of U.S. Secretary of State John Kerry's arrival.
On Wednesday, traffic disruptions are expected from the morning hours on Highway 1, from Jerusalem toward Ben Gurion Airport. Highway 1 will be closed off to vehicular traffic from Ben Gurion Airport to Jerusalem starting at 1:15 p.m. for about one hour.
On Friday, the highway will be closed from Jerusalem to Ben Gurion Airport in the morning hours.
The following roads in Jerusalem will be closed off to traffic and parking throughout Obama's visit, from Wednesday morning to Friday afternoon:
Hamelech David from the Meches Junction to Gan Hapaamon; Emil Botha; Mapu; Lincoln; Washington toward David Hamelech.
Parking will be allowed for residents only, upon presentation of ID card with attachment, on Emil Botha and Admoni streets, through Shama (for Emil Botha) and Washington (for Admoni).
The light train will work throughout the visit except for the limited times during which the motorcade will be travelling next to the tracks or crossing them.
Public transport will be disrupted citywide. For information, dial *8787. On municipal issues, dial 106.
On Thursday, Highway 60 will be closed off intermittently between Hizme Checkpoint and Ofra Junction. The road will be "sterile" when the motorcade passes through it and no vehicles will be allowed d on it, ambulances included. Emergency evacuations will be carried out by helicopter.
Bet El, Adam, Psagot, Kochav Yaakov / Tel Tzion, Migron and Shaar Binyamin will be closed and no one will be allowed in or out of them.
Hours of traffic blockage in the Binyamin region Thursday:
08:15, routes sealed.
09:30 Traffic renewed.
09:30 – 15:00 Free traffic.
15:15 Routes blocked.
16:30 Free traffic renewed.
The police have opened a public service hotline for information on traffic disruptions during the Obama visit at 1-700-553-100.