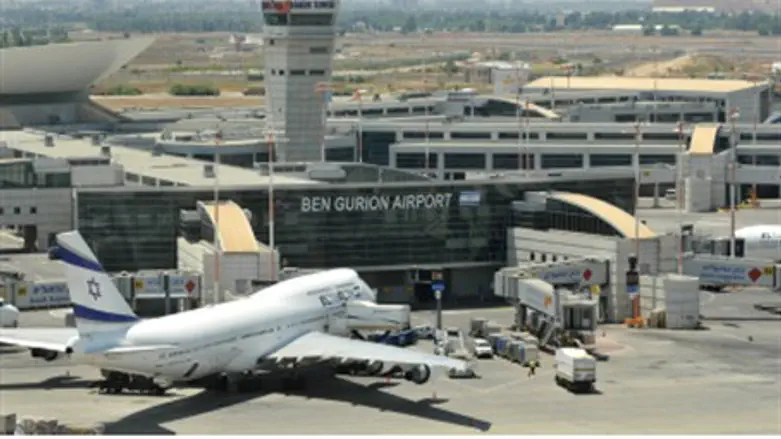 Ben Gurion International Airport
Israel news photo: Flash 90
Have you ever lost your temper because you've missed a connection or lost your luggage on what should have been a nice holiday, after sitting on an intercontinental flight for 10 hours or more?
An irate Israeli passenger whose luggage made the plane to Florida, but whose family did not because the flight was oversold, created a massive bomb scare in Newark Int'l Airport on Sunday.
The passenger, 44-year-old Eran Hess, was outraged to discover that although his bags had made the connecting flight upon arrival from Ben Gurion International Airport in Tel Aviv, he and his family had not.  
"I am going to tell the TSA (Transportation Security Authority) I put a bomb in my bag and get my bag back," sources quoted him as saying to a United Airlines worker.
Then he and his family disappeared into the crowd.
Airline employees became concerned, and then worried.
Airport security immediately went on alert, with a dozen officers searching for the irate passenger, his wife and two children. Travelers were delayed as officials contacted the United Airlines flight to Miami, stopping it just before takeoff. 
Security personnel returned the aircraft to the gate for inspection, with 167 passengers and six crew members held up for nearly three hours as each checked bag was removed and sniffed by dogs. Passengers were taken to a remote area of the tarmac in special buses while the aircraft was swept.
An airline official informed the displaced passengers that a man who had been bumped from the flight was angry about his bags being on the plane without him, and had claimed one contained a bomb.
Hess, meanwhile, was caught two terminals away, trying to board an American Airlines flight to Florida, according to a spokesperson for the Port Authority who spoke with the NY Post daily newspaper.
He was charged with "creating a false public alarm."