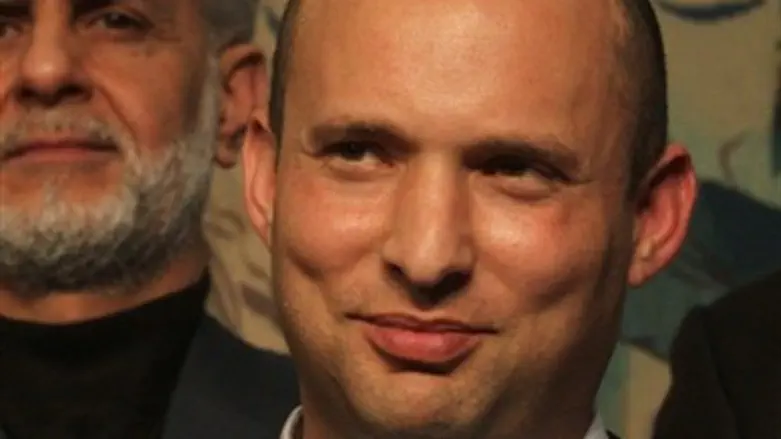 Naftali Bennett
Israel news photo: Flash 90
My Israel, a grassroots Facebook-based Zionist group founded by Bayit Yehudi chairman MK Naftali Bennett, is asking its supporters to register their protest of President Barack Obama's boycott of Ariel University students, on the U.S. ambassador's Facebook page.
Obama has invited 1,000 students from all of Israel's universities except Ariel to attend a speech he will deliver to the Israeli people – over the head of the Knesset and government – during his visit to Israel this week.
"President Obama is boycotting Ariel? Contact the U.S. Ambassador to Israel today," My Israel told its 100,000 supporters. 
"The U.S. embassy in Israel handed out about 1,000 invitations to students from all over Israel to come and listen to the speech," the Facebook post says. "Who was not invited? Ariel."
"This is a political act by the present of the U.S., which contradicts the position of the Israeli government, which decided to recognize Ariel as a university after a protracted process. This is like spitting in Israel's face – no less than that."
My Israel asks supporters to "like" the ambassador's page in order to enable them to post on it, and then express their protest in English or Hebrew, with due respect and politeness.
A White House video which states that President Barack Obama's planned speech before Israeli university students is the centerpiece of his visit, also appears to confirm that the White House deliberately left Ariel University students out of the event.
The spokesman in the video, Deputy National Security Adviser Ben Rhodes, says in it that the universities chosen to send students to the event were the ones that "partner" with the U.S. Embassy. 
My Israel was founded in 2010 by Bennett, who ran it along with Ayelet Shaked until they joined Bayit Yehudi and ran successfully for its leadership. It is no longer run by them but it can safely be assumed that the campaign to put pressure on the White House was coordinated with Bennett.
My Israel is currently managed by Sarah Haetzni-Hacohen and Shahar Kutinsky.