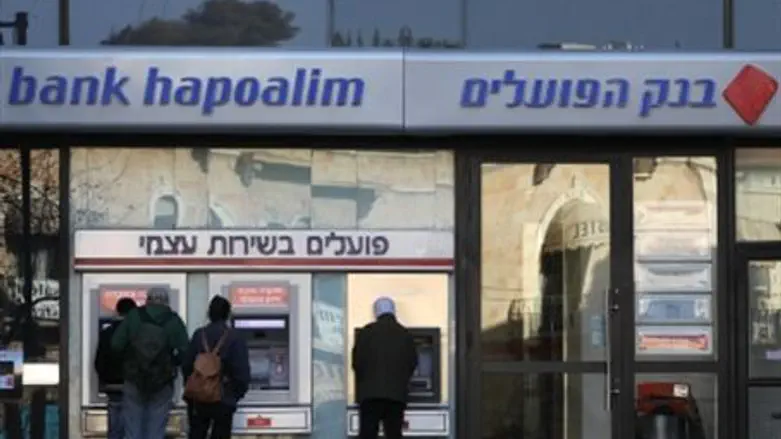 Bank Hapoalim in Israel (illustrative only)
Israel news photo: Flash 90
Depositors to the Arad branch of Bank Hapoalim found themselves out of luck on Sunday morning upon finding the bank's three ATMs burnt and its glass door smashed when they arrived to access services Sunday morning. Police tape was wrapped around the area in front of the bank, blocking access to the entrance. 
A guard and a detective were prowling around inside the darkened bank, examining what remained of the furniture inside.
A man on the scene told Arutz Sheva it was not clear whether the blaze had been caused by a bomb or arson.  But a businessperson passing by theorized the fire might have been neither: "There have been problems with the electrical wiring to some of the stores around here," said the source, who requested anonymity. "At least one store ended up using a generator one night in order to preserve its own electrical safety."
Much of the infrastructure in the city is very old.  Located at the apex of the Negev and Judean deserts, Arad started in 1962 as the first planned city in Israel, a development town about 25 kilometers (15 miles) west of the southern end of the Dead Sea. The population is diverse, and in recent years has included migrants from Eritrea and Sudan, as well as a large population from the former Soviet Union, Negev Bedouins, and Black Hebrews as well as Sephardic and Ashkenazi Jews who are hareidi-religious, traditionally observant and secular.
The timing could not have been worse for the city, home to 24,000, with only one shopping week left to go before the start of the week-long Jewish holiday of Passover.
The incident leaves Arad with only two functioning banks – Bank Leumi and Bank Mizrahi Tefahot. But only Bank Leumi has operating ATMS, since Mizrahi has relocated to a temporary setting while undergoing renovations, and has no ATMs.