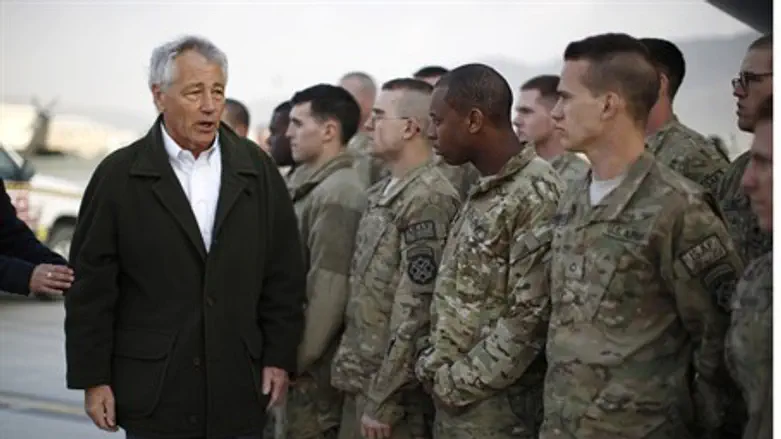 Chuck Hagel greets NATO soldiers in Afghanist
Reuters
Faced with inflammatory remarks from Afghan President Hamid Karzai and insurgent bombings, Chuck Hagel showed an abundance of caution in his first visit to Afghanistan as America's new Pentagon chief.
Nine days after taking over as defense secretary following an acrimonious nomination process in Congress, the former Republican senator arrived in Kabul on Friday saying he wanted "to better understand where we are in Afghanistan."
But Hagel's visit quickly turned into an exercise in crisis management, AFP reported.
On Saturday morning, less than a kilometer (half-mile) from where Hagel was holding a meeting, a suicide bomber detonated a device at the entrance to the heavily-guarded Afghan defense ministry in an attack the Taliban called a "message" to the new defense secretary.
On Sunday, hours before a scheduled meeting with Hagel, Karzai lashed out at his American allies, with whom he has repeatedly clashed, in an outburst that left US officials puzzled and exasperated.
Karzai claimed the Americans were engaged in talks with the Taliban behind Kabul's back and colluding with the insurgents to justify the presence of US-led forces in Afghanistan.
"It is their slogan for 2014, scaring us that if the US is not here our people will be eliminated," Karzai said.
The tirade provoked outrage in the US mission, with the commander of NATO-led forces, General Joseph Dunford, "categorically" denying the Afghan president's assertions.
"We have no reason to collude with the Taliban. We have no reason to be supporting instability in Afghanistan," Dunford told reporters.
Despite Karzai's heated rhetoric, Hagel offered no angry retort. He gently disagreed with Karzai's allegations but spoke with empathy about how the Afghan president had to contend with political "pressure."
"I know these are difficult issues for President Karzai and the Afghan people. I was once a politician, so I can understand the kind of pressure that especially leaders of countries are always under," he said.
Hagel's predecessor at the Pentagon, Leon Panetta, known for salty language and flashes of emotion, once expressed frustration that Afghan leaders needed to recognize the sacrifices of NATO troops for their country.
But Hagel chose to avoid a public back-and-forth with Karzai.
Although Hagel earned a reputation as a blunt-speaking maverick as a lawmaker and was grilled at his Senate confirmation hearing over past remarks, he employed the restrained language of a diplomat during the trip, his first abroad since taking office.
When asked the course of the war, Hagel kept his cards close to his chest and made no claims about extraordinary progress on the battlefield.
"It's complicated," he said several times to reporters' questions.
He also declined to be drawn into a discussion on the size of a possible future US force after NATO troops withdraw in 2014 or on plans for long-term funding of the Afghan army and police.
The former Vietnam infantryman, who never joined the officer ranks, appeared more at ease during his meetings with troops, inviting soldiers to ask questions and offer him advice.
At an American base in Jalalabad in the country's east, Hagel joked with about 100 troops from the 101st Airborne Division that he had not been "smart enough" to make it into their division when he served in uniform.
And he appeared to connect with the Army soldiers when he voiced sympathy for the trials endured by their loved ones back home.
"I have some appreciation of what your families go through," he said.
"The families have to always kind of be behind and worry and deal with the day-to-day rigors" of life, he added.
For Sergeant Sam Garrett, Hagel's remarks were reassuring: "He spoke about the families. To these boys, it means a lot."