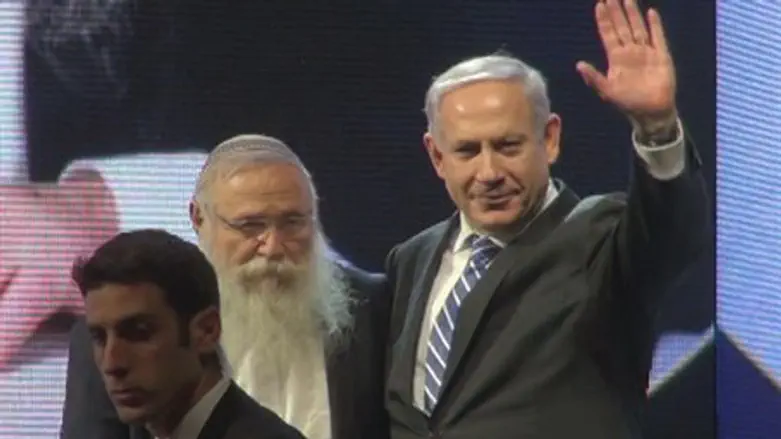 Netanyahu and Rabbi Druckman
Arutz Sheva
Prime Minister Binyamin Netanyahu delivered a heartfelt tribute to Rabbi Haim Druckman, venerated spiritual leader of the religious Zionist stream, at an evening Sunday honoring Rabbi Druckman upon reaching the age of 80.
Netanyahu tore up the speech he had prepared and delivered an improvised version of it instead. "You know," he quipped, "in my family, reaching the age of 80 is not something to write home about... and you have a long road full of great deeds ahead of you."
Netanyahu played on the word 'gvurot' – courage – which is used in Judaism to refer to the age of 80.
"I would like to speak of your courageous virtues," he said, "three of them, and the first is here in the hall and outside it."
"I was at the Pilot's Course graduation just now. There was a religious female pilot there. An instructor at a Bnei Akiva ulpana. Something wondrous. I saw ship commanders and veterans of the Shayetet naval commando… I am not sure what they do with the kippah in the water… but every single place I go… in the IDF, in the economy, in business, in science, in technology. In our public life, in the government, in the Knesset. Everywhere. In my bureau! In my bureau... I am surrounded by knit kippot, the Iron Dome. And we enjoy the fruit of the labor that you have been leading for many years, of people who today are the backbone of action and leadership, in every field in Israel. There is no field where there are not graduates of Bnei Akiva – men and women."
The second courageous virtue Netanyahu spoke of was Rabbi Druckman's successful conversion of 50,000 people into Judaism, in the time when he headed the Conversion Authority.
The third courageous virtue the prime minister discussed was Rabbi Druckman's life as a family man. Turning to Rabbi Druckman's wife, Sarah, the Prime Minister noted that the couple have more than 100 grandchildren. He said that while he wishes Rabbi Druckman "until 120" – the traditional blessing for a birthday – he is sure that the number of grandchildren will grow beyond 120.
Some of the people in the audience could not help but note that Netanyahu's enthusiasm about the religious Zionist sector sounded a lot like Naftali Bennett's election campaign, and was the complete opposite of Likud's own anti-religious campaign. It appears that if Netanyahu intended to lead the country without religious Zionism beside him at the helm – he has completely snapped out of the illusion that this was possible, and is embracing the new reality with a smile.