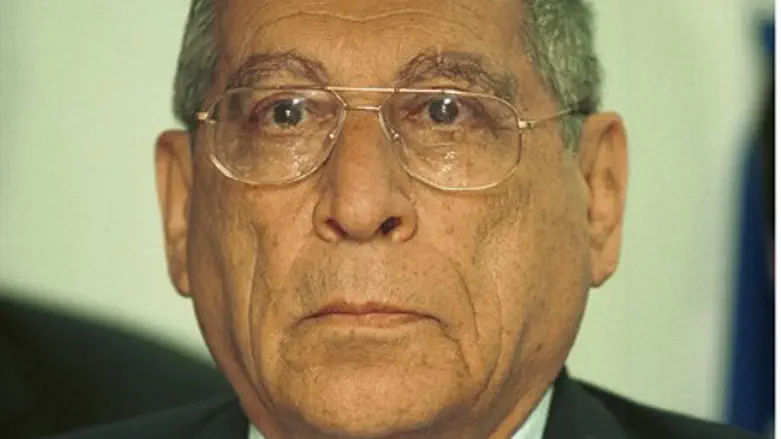 Rehavam Ze'evi
Flash90
The European Jewish Congress (EJC) has slammed the decision by Bezons, a suburb of Paris, to grant terrorist murderer Majdi al-Rimawi "honorary citizenship."
Al-Rimawi was sentenced by an Israeli court to life imprisonment plus 80 years for participating in the planning and murder of Israeli Minister Rechavam Zeevi in 2001. The inscription on the plaque prepared by the municipality of Bezons refers to Al-Rimawi as a "political prisoner."
"This is an outrageous and horrific decision, not just to honor a murderer, but the murderer of an Israeli government cabinet minister," EJC President, Dr. Moshe Kantor, said. "Today is exactly a year since the terrible and tragic murder of Jewish schoolchildren in Toulouse and the honoring of al-Rimawi in France demonstrates that murder and terrorism is being glorified when it should be condemned in all forms."
"We call on the French authorities to immediately remove this stain on the French landscape out of respect for a friendly government, the people of France and tolerance."
The Mayor of the city of Bezons, Dominique Lesparre, made a speech at the ceremony honoring Rimawi in which he justified the acts of the convicted terrorist murderer, calling him a "victim".
"It is inconceivable that an elected figure can be so ignorant to call a cold-blooded murderer a victim," Kantor said. "This is the kind of ignorance which leads to people like Mohammed Merah perpetrating the murder of children because they are Jewish. This type of glorification of murder is sending a very ominous message to the next Merah."
Since the Toulouse murders a year ago, there has been an upswing in anti-Semitism in France with Jews physically assaulted across the country. The EJC said that it recognizes the strong reaction in the aftermath of last year's Toulouse murders, and also commends the current government under President Hollande. However, more needs to be done to reduce anti-Semitic attacks in the year since the horrific events of March 11, 2012.