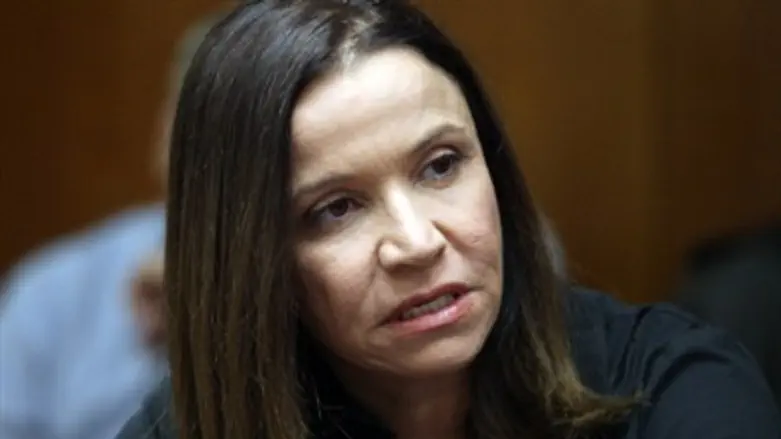 MK Shelly Yachimovich
Israel news photo: Flash 90
Labor head MK Shelly Yachimovich wrote in a weekend e-mail to supporters that her party will head proudly toward the Opposition benches, where it will "block evil plots."
Yachimovich wrote that Prime Minister Binyamin Netanyahu preferred a coalition with the Labor party over his presently forming coalition, but said that he was completely unwilling to change his policies so that they would fit Labor's, even partially.
"As long as we are unable to implement our policy and have to make do with a few bones in the form of ministerial seats, meaningless governmental positions and perks – the same repetitive and pathetic behavior that Labor surrendered to in the past – we will not be there," she wrote.
"We are going to head the Opposition," she added. "Opposition is not a sacred end in itself. But it is a proper place if the voters have thus decided, and it is certainly a respectable and vital place in democracy, and it is a place from where one can effect great changes, wield influence, lead the way, cause processes, prevent evil plots, and create an alternative to the government, with hard work.
"We will serve the nation from the Opposition. We will do it with excitement and hard work. We will fight the government when it hurts the public, but if it does the right thing here and there, we will support it without hesitation. Of course, our 15 fingers will be raised to support any retreat [pe'ima] that will support a diplomatic initiative. While I do not believe this will happen – if we are on the eve of the signing of a diplomatic agreement, we will not make it possible to miss this opportunity because of parties and MKs from the Right who threaten to leave the Coalition, and we will reconsider joining the government. We plow the long furrow. We have patience, we have courage, we are industrious and we have ideology."
Yachimovich grew up in a communist family and has admitted to voting for the communist party as late as 1996.