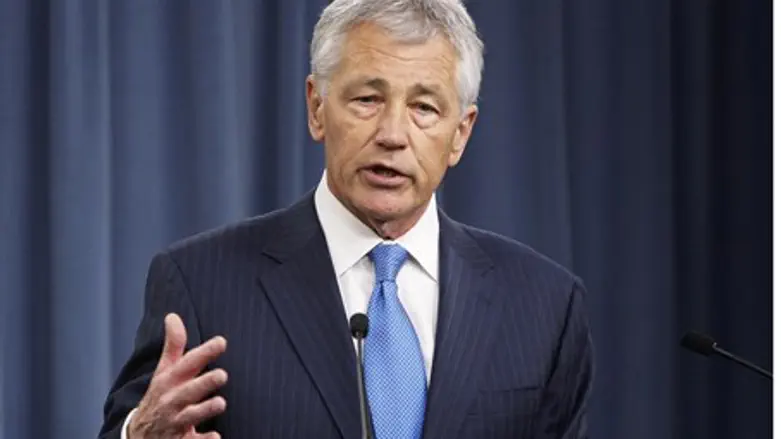 US Secy of Defense Chuck Hagel
Reuters
Although the cuts will be lower than expected, Israel will nevertheless feel the sting of the axe as America slashes its budget for fiscal 2013, sources said Thursday in an as-yet unconfirmed report.
Instead of the originally-expected $250 million cut, U.S. foreign aid to Israel will drop by $150 million, Washington sources allegedly told Finance Minister Yuval Steinitz.
The sources said the cut was unavoidable, given the across-the-board slash, down from eight percent to five percent, in the nation's budget.
Numerous Israeli firms that provide products and services to the U.S. government, including those in the military industries, are expected to be affected by the reduction.
However, newly-confirmed Secretary of Defense Chuck Hagel said Tuesday that any cuts would not affect U.S. funding for Israel's rocket and missile defense programs.
"Secretary Hagel expressed his strong commitment to Israel's security, including maintaining Israel's qualitative military edge and continued U.S. support for missile and rocket defense systems, in spite of fiscal constraints," Pentagon spokesman George Little said in a statement.
A separate defense official, who spoke on condition of anonymity, said that Hagel "is committed to working with members of Congress to ensure that there is no interruption of funding for Iron Dome, Arrow, and David's Sling rocket and missile defense systems, despite the fiscal uncertainly due to Congressional inaction."