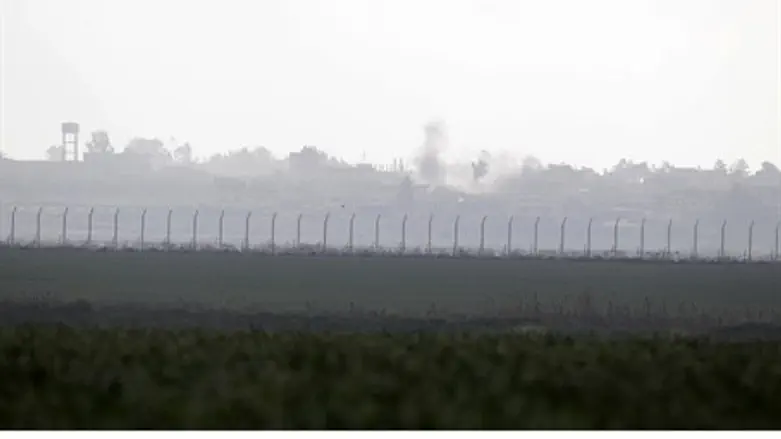 Israel-Syria ceasefire line on Golan Heights
Reuters
Syrian rebels have begun to show their colors with anti-Israel accusations claiming a clandestine deal between President Bashar al-Assad and the Jewish State and kidnapping United Nations peacekeeping forces.
Businessman Piras Tlass, a member of the opposition, told the Al Arabiya television news network this week that the office of President Bashar al-Assad had arranged secret deals with Israel, among them a direct delivery of Syrian crude oil to the Jewish State. Tlass claimed Assad agents murdered former Prime Minister Mahmoud Zuabi because he planned to expose the agreements. 
Tlass, son of former Syrian Defense Secretary Mustafa Tlass, is the brother of Manaf Tlass, a former Brigadier-General in the Syrian Republican Guard and a member of Assad's inner circle who defected to Turkey in the summer of 2012.  
Turkey made a similar accusation last month, with Foreign Minister Ahmet Davutoglu claiming a secret alliance had been struck between the Syrian government and Israel following an alleged Israeli air strike on a chemical weapons processing facility near Damascus.
"Why has the Syrian army, which has been attacking its own people with warplanes and tanks for 22 months, not responded to [this] Israeli operation?" Davutoglu allegedly demanded while speaking with journalists in a flight to Serba. Why doesn't [Assad] throw a stone at the Israeli planes while they fly over his palace and insult his nation's honor? Why doesn't he do anything against Israel while he drops bombs on the innocent people of his country? 
"Is there a secret agreement between Israel and Assad?" he was quoted as saying, according to the Turkish Hurriyet newspaper. 
Journalist Kapil Komireddi warned in an interview posted by RT to the Internet several months ago that the Syrian opposition is being driven by a myriad of disparate forces, including foreign jihadists who he said are likely to target Israel next. 
Komireddi had spoken to a group of rebel fighters in Damascus in various locations, some of whom had traveled from Afghanistan, and who told him they had "a big fight against the Jews ahead of them." He told RT, "This is familiar to me because I've also met people elsewhere, particularly in Pakistan, who say that they have a fight with the Jews ahead of them. So they see that as the ultimate destination...
"One of the things that was particularly disturbing to me is how Manaf Tlass is being groomed as a possible replacement for Assad. Not a lot of people know that Manaf Tlass is a first rate anti-Semite. He's written a book called The Matzah of Zion which talks about the blood libel and he (Manaf) was smuggled out by French spies."
The journalist added that Manaf Tlass often travels to Saudi Arabia, though few are aware of his history. "People should be worried about [him] being groomed as a possible replacement," he said. 
The Syrian rebels meanwhile this week aimed their weapons at a new target: United Nations peacekeepers. Some 20 U.N. troops on patrol in the Golan Heights were kidnapped Wednesday by a group of 30 rebels fighters. The Free Syrian Army has accused them of helping the Assad regime "for Israel's security." The FSA is the military wing of the Western-backed Syrian National Council, which is soon to receive some $60 million is non-lethal aid from the United States, and other assistance from the UK. 
Spokesperson Muhammad al-Faleh for the Jermuk Union, a faction of the FSA explained in an exclusive interview with the Anadolu Agency (AA), "U.N. forces helped Assad troops and wanted to facilitate the return of Assad forces back to the village of al-Jamla, currently under the control of the FSA."
Al-Faleh claimed that the U.N. and the Assad regime had worked together to remove the FSA units from the village "for Israel's security... While we were talking to the U.N. forces, sharp shooters of the Syrian regime opened fire on us," he said.
The rebel spokesperson claimed once regime forces withdraw from the region, "we will let go the U.N. troops we have detained."