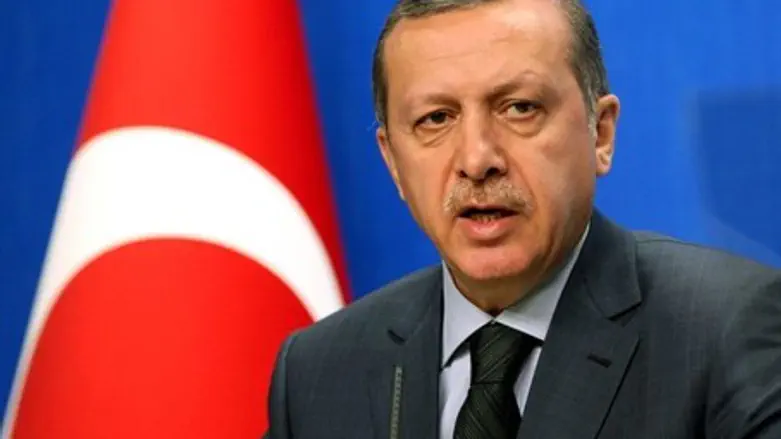 Recep Tayyip Erdogan
AFP/File
Turkish Prime Minister Recep Tayyip Erdogan's statement at a United Nations gathering last week has caused World Jewish Congress (WJC) Secretary General Maram Stern to cancel his planned participation in an event this week in Berlin, which is to be addressed by Turkey's Deputy Prime Minister Bülent Arinc, the European Jewish Press (EJP) reported.
Last Thursday Erdogan, compared Zionism with fascism in a public address at the opening session of the fifth UN Alliance of Civilizations.
"Just like Zionism, anti-Semitism and fascism, it becomes unavoidable that Islamophobia must be regarded as a crime against humanity," the Turkish leader told the gathering.
EJP reported that WJC President Ronald S. Lauder expressed outrage at the statement and called it "a crime against humanity."
"Mr. Erdogan's latest outburst against Israel is an insult not just to the Jewish state but to the entire Jewish people. Unfortunately, despite all the criticism of the past days, he has not had the decency to apologize," Lauder said.
Lauder said the Turkish leader seemed to re-fight the battles of the 1970s when the United Nations General Assembly adopted a resolution that equated Zionism with racism. It was revoked in 1991.
"Prime Minister Erdogan is obviously trying to jockey for the position of supreme leader of the Islamic world. However, by using the language of hatred and emulating notorious hatemongers, such as Iranian President Ahmadinejad, he will in fact foster more, and not less, Islamophobia," the WJC leader declared, according to EJP.
"Zionism is the legitimate aspiration of the Jewish people to live in its historic homeland, Israel. If the leaders of the Islamic world are serious in their desire to have peace in the Middle East, it is time that they accept Israel's right to exist and stop this kind of incitement," he added.
Erdogan's comments were branded as "a dark and mendacious statement" by Prime Minister Binyamin Netanyahu, while Washington said "characterization of Zionism as a crime against humanity... is offensive and wrong."
U.S. Secretary of State John Kerry on Friday rejected Erdogan's comments as "objectionable."
He said it was essential for Turkey and Israel to rekindle their "historic cooperation" but the situation got more complicated "in the aftermath of the speech that we heard in Vienna."
Over the past three years, Israel has made numerous efforts to repair the fractures in the relationship with Turkey that first appeared following Israel's Operation Cast Lead against Gaza terrorists in the winter of 2008-2009. 
Erdogan's Islamist rage over the Jewish State's air strikes on Gaza terrorist targets, launched to silence the constant rocket fire that had rained down from the region for years on southern Israeli communities, did not abate, however.
The subsequent deaths in May 2010 of nine armed men who attacked IDF commandos boarding a Turkish-owned vessel in an illegal flotilla attempting to breach Israel's maritime blockade of Gaza further worsened the breach.
Turkish leaders demanded an apology from Israel over the incident, but Israeli leaders refused, saying Israel had acted in self-defense. In response, Turkey downgraded its ties with the Jewish State.