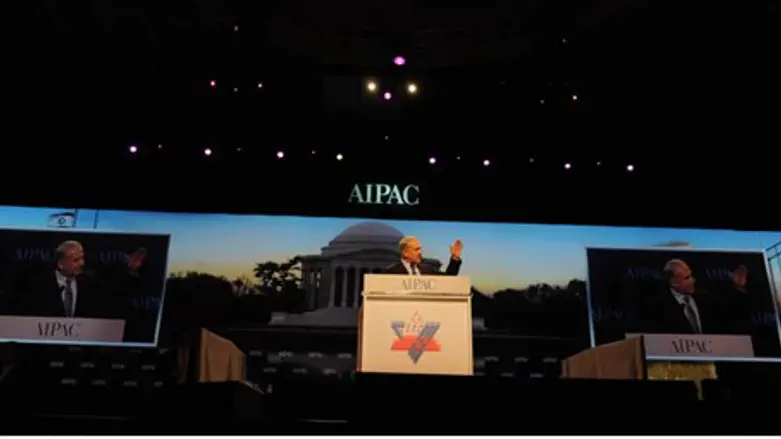 AIPAC conference (archive)
Flash 90
While AIPAC donors know their pro-Israel group was powerless to stop Chuck Hagel's Pentagon nomination, many sounded off on the new US defense secretary for his past comments deriding a "Jewish lobby" in Washington.
"I just don't think he was the right person for this job," said Vivian Ivry, one of several donors and delegates to the American Israel Public Affairs Committee conference and who spoke to AFP with resigned frustration about President Barack Obama's controversial pick to head the Department of Defense, AFP reported.
"Somebody who speaks about a 'Jewish lobby,' someone who was against sanctions on Iran -- you need to have someone in charge of the Pentagon who is going to be a little more even-handed about his comments."
Obama's pick undoubtedly felt like a slap in the face for many staunch Israel supporters in the United States.
Seven in 10 Jewish voters backed Obama's re-election bid last November, and some saw little thanks from the president in nominating a man whose remarks about Iran, Israel, nuclear weapons and the US troop surge during the Iraq war ignited a firestorm during his confirmation hearing.
The blunt-talking Hagel, 66, is known for his fiercely independent streak and has drawn fire for his opposition to some sanctions on Iran, which Israel and much of the West suspects is trying to develop a nuclear weapons capability.
Hagel has also been accused of insufficient support for Israel, and he drew strong rebukes from supporters of the country when he warned that a "Jewish lobby" was intimidating lawmakers in Washington.
But like many at the group's annual conference -- which saw Vice President Joe Biden pledge to the thousands of delegates that the administration has Israel's back -- Ivry, a donor from Palm Beach, Florida, acknowledged that it was not AIPAC's role to wade into Obama's choices for cabinet posts.
Even though AIPAC donors and delegates "were not dancing in the streets" over the Hagel nomination, "the president is entitled to pick his people," said Rabbi Zvi Teitelbaum of Maryland.
"I don't think anybody (in AIPAC) wants to take on Obama frontally, but rather work within the system."
That system allows lobbyists, and there are thousands of them in Washington, to lean heavily on US lawmakers to persuade them to see their side of an issue.
For years AIPAC has been among the most effective -- some would say powerful -- groups of its kind in Washington, sending divisions of political foot soldiers to Capitol Hill, often to press for greater support for the Jewish state.
So when it was highlighted in his Senate confirmation hearing that Hagel, himself a former Republican senator, had made less than flattering remarks about Israel, some groups spoke up, including the Anti Defamation League.
AIPAC sat this fight out, keeping largely silent, a move its donors and delegates understood.
"Our role is not to be a kibbitzer" -- someone who gives unsolicited advice, said David Samrick, an AIPAC official in Broward County, Florida who is on the group's national council.
"So for us to have any sort of aggressive posture toward any of (the president's) nominations would be a mistake, because our access would be limited if we begin to criticize the administration."
Still, the quiet consensus among many at AIPAC was that Hagel was not their best advocate.
"Chuck Hagel is a mystery," warned Harold Shichman, an AIPAC donor from Scotch Plains, New Jersey. "I've heard a lot of negative things about him."
Donor Sol Friedman of Florida was not happy with Hagel either, but he downplayed any negative effect Hagel might have on the strategic US-Israeli relationship.
"It's up to the president," Friedman said. "The president sets the agenda, and I assume the secretary of defense will follow."