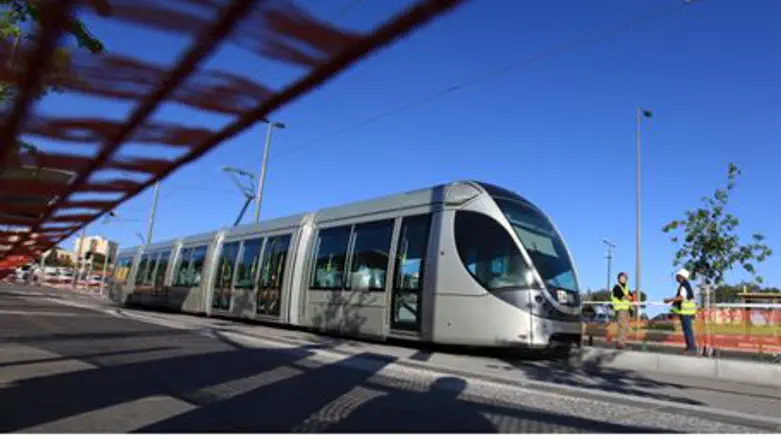 Light rail train, Jerusalem
Israel news photo: Flash 90
A resident of the city of Beit Shemesh, who last week tried to separate a fight between Jewish women and an Arab woman at one of the stations of the Jerusalem Light Rail, has found himself being accused by the police of having taken an active part in the fight.
A woman from Judea and Samaria was arrested on Sunday on suspicion of attacking the Arab woman.
Speaking to Arutz Sheva, the Beit Shemesh resident, Hezki Koren, said he had seen the incident from the other side of the street and immediately rushed, along with his friend, to separate the fighting women. He said the whole incident was over in about twenty seconds and that there hadn't been a need to call the police or an ambulance to evacuate any injured persons.
However, although he himself tried to separate the fighters, the Arab woman had described the incident differently, telling police that two yeshiva students (Koren and his friend) had been present during the fight but did nothing to separate the sides and in fact enjoyed the spectacle.
Koren said that he does not know what led to the fight, but said he finds it necessary to raise various questions about the incident, which Israeli media was quick to label a "lynching" of the Arab woman by the Jewish women.
For example, Koren said, the political affiliation of far leftist photographer Dorit Dotan, who was present on the scene and claimed that the Arab woman had been attacked by the Jews, was never mentioned in media reports on the brawl.
He also wondered how it is that instead of trying to stop the supposed lynching of the Arab woman, Dotan was satisfied with simply filming the incident.
Koren, who came to the police station to testify about the events on Sunday, pointed out to police that while he wanted to separate the fight, the Arab woman hinted that he was among the attackers.
He told Arutz Sheva that while he cannot outright reject the claim that the Jewish women indeed attacked the Arab woman, he wonders why the media was so quick to blame the Jewish women for the fight, simply based on the statement of a leftist photographer and without examining the evidence in a more comprehensive manner.