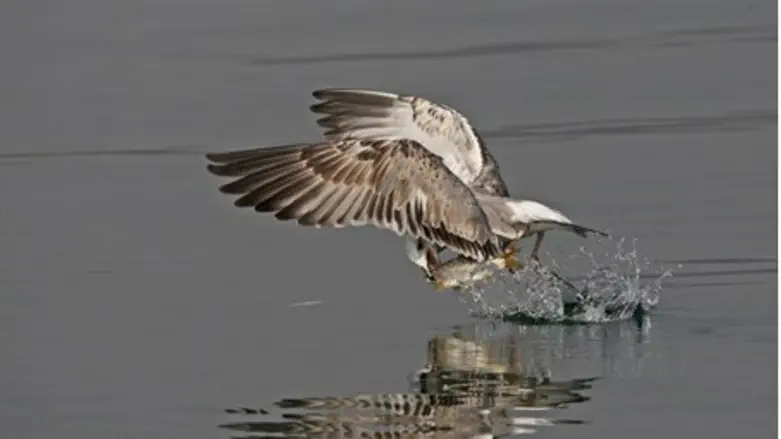 Bird catches fish from the Kinneret
Israel news photo: Flash 90
The water level of Lake Kinneret (Sea of Galilee) is still rising as the winter season begins to wind down.
The surface of the lake rose by four centimeters over the weekend, according to Water Authority officials. Over the Purim holiday last week, the water level rose by two centimeters, and by four centimeters more over the prior weekend due to Sabbath rains.
The surface of the lake now stands at 210 meters and 16 centimeters below sea level, just one meter and a few centimeters away from the upper "red line" – 208.80 meters below sea level – the point marking the lake as full.
If the lake were to rise above this mark, officials would be forced to open the gates of the Degania Dam, which divides the Kinneret from the southern Jordan River.

Thanks to this winter's heavy rains, the level of the Kinneret has risen dramatically over the past several months.
The lake is Israel's largest single source of fresh water. Although there are still at least three weeks left to go until Passover, the official end of the season of winter rains, officials do not expect the surface of the lake to rise above the upper red line.