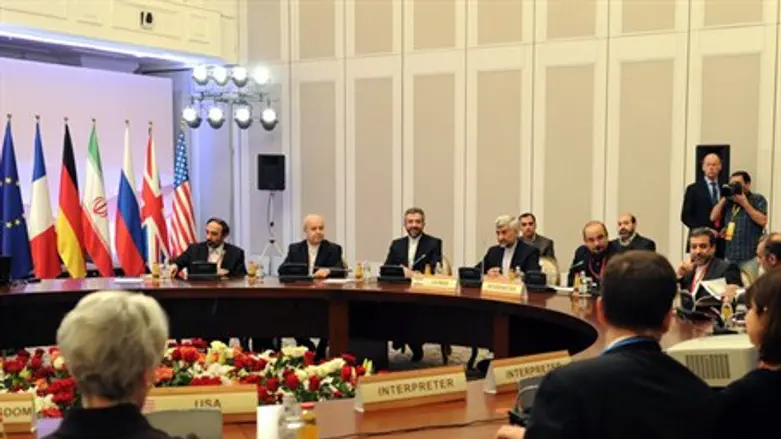 Iran's representatives take part in talks in
AFP photo
Iran and world powers agreed Wednesday to hold new talks in March and April over the Islamic Republic's disputed nuclear drive, after negotiations in Kazakhstan which Tehran praised as a possible turning point in the decade-old dispute.
There was no sign of a major breakthrough over Iran's nuclear ambitions in the Kazakh city of Almaty but the agreement on new meetings suggested potential for progress, AFP reported.
The talks saw the five UN Security Council members and Germany offer Iran a softening of non-oil or financial sector-related sanctions in exchange for concessions over Tehran's sensitive uranium enrichment operations.
A senior U.S. official said Iran "appeared to listen carefully to the offer" and its chief negotiator Saeed Jalili issued rare praise for the world powers' "positive" and "realistic" attitude.
Speaking in Vienna, Iran's Foreign Minister Ali Akbar Salehi went even further, saying he was "very optimistic about the outcome."
"Things are taking a turning point and I think the Almaty meeting will be (seen as) a milestone," Salehi said, according to AFP.
Jalili was more circumspect, saying the world powers' proposals were "more realistic, compared to what they said in the past."
"We consider these talks as a positive step which could be completed by taking a positive and constructive approach and taking reciprocal steps," he told reporters in Almaty, according to AFP.
Uranium enrichment is the most sensitive part of the nuclear cycle as the process can be used to make both nuclear fuel and the explosive core of a nuclear bomb that the powers fear Iran wants to develop.
Officials said the sides would next meet at the level of senior civil servants on March 17-18 in Istanbul.
Talks involving Jalili and the six world powers represented by EU foreign policy chief Catherine Ashton would then take place in Almaty on April 5-6.
In contrast to the more effusive Iranian response, Ashton refused to be drawn into a judgment of the talks' success.
"I hope that the Iranian side are looking positively on the proposals we put forward," Ashton told reporters. "The proposals we put forward are designed to build in confidence and enable us to move forward.
"We approach this with the absolutely united view that we need to see international confidence in this (Iranian nuclear) program."
The offer reportedly involves easing sanctions on Iran's gold and precious metals trade and lifting some very small banking operations.
In return, it demands a tougher weapons inspection regime and the interruption of enrichment operations at the Fordow bunker facility where 20-percent enrichment goes on.
As the negotiations took place, Britain's Daily Telegraphpublished satellite images which show that Iran's Arak heavy-water plan is operational, raising fears that it is trying to produce plutonium for a nuclear bomb.
The images appear to show steam rising from forced air coolers, suggesting heavy-water production at the plant, which has been closed to international inspectors for 18 months.
Heavy water is required in plutonium-producing reactors and that raises alarms that Tehran is seeking a second path to obtain the bomb.
A report released last week by the International Atomic Energy Agency (IAEA) says that Iran has begun installing next-generation equipment at one of its main nuclear plants in Natanz.
Iran has claimed that the report is proof that its nuclear program is intended only for peaceful purposes.