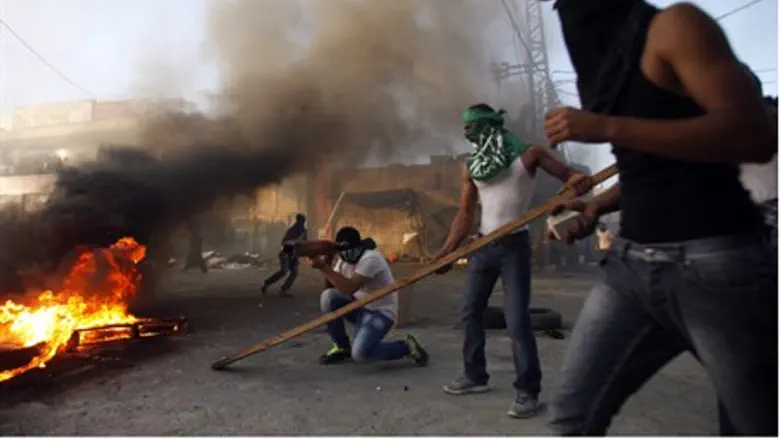 Arab riots
Flash 90
Palestinian Authority Chairman Mahmud Abbas alleged Monday that Israel was deliberately seeking to provoke unrest in Judea and Samaria.
"The Israelis want chaos and we know it but we won't let them," Abbas said in comments at headquarters in Ramallah.
"We want peace and freedom for our prisoners and no matter how hard they try to drag us into their schemes, we will not be dragged," he claimed.
Thousands took part in the funeral of the prisoner, Arafat Jaradat, who died on Saturday at Megiddo prison, as his body was carried to his home village of Sa'ir from a hospital in nearby Hebron.
Hundreds of Palestinians hurled stones at Israeli security forces following the funeral of the thirty-two year old Arab prisoner who was arrested last week for throwing stones at Israeli cars in the area.
The Palestinian Authority claims that Jaradat, whose official cause of death was listed as a cardiac arrest, died as a result of brutal torture during interrogation.
However, Jaradat's autopsy revealed no signs of violence, and that the trauma caused to his body came as the result of the medical emergency team's efforts to resuscitate him following his collapse.
"We lost Arafat Jaradat who was arrested and came back in a coffin and this cannot pass lightly," Abbas said.