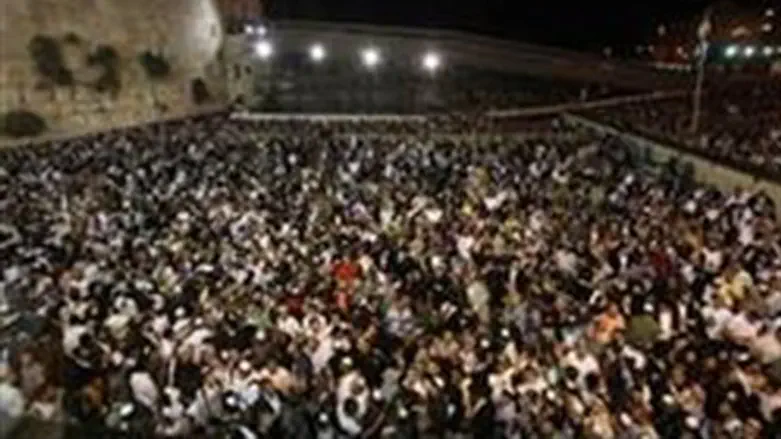 crowd at the Kotel
courtesy Western Wall Heritage Foundation
An Israeli Arab group, "The Al-Aqsa Heritage Institute," on Thursday issued a statement demanding that Israel halt its plans to bring more Jews to the Kotel (Western Wall) – which, the group claims, is holy not to Jews, but to Muslims.
In fact, the group says, Israel is "defiling the holiness of the site" by conducting Jewish prayers there.
In Jewish tradition, the Kotel is the outer retaining wall of the Holy Temple, which stood on the Temple Mount, approximately at the same location as the Al-Aqsa Mosque. When the Holy Temple was destroyed nearly 2,000 years ago, Jews were prohibited from worshipping on the Mount, first by the Romans and then by the Muslims, and proscribed from doing so by Jewish law – and adopted the Kotel as a place of prayer, as it was the closest place to the Holy Temple as the could get.
In Islamic legend, however, the Kotel is a Muslim site – famous as the wall that Muhammad used to tie up his donkey when he ascended to heaven on his "night journey" from the Temple Mount. The "Buraq Wall," as Islamist groups call the Kotel, is a part of the Temple Mount, and thus has the same status for Muslims as the Al-Aqsa Mosque, or the other holy places in the area.
In a statement this week, the group said that "the Buraq Wall, west of the Al Aqsa Mosque, is one of the main objectives of the Israeli occupation. As a result, more than 10 million Israelis and tourists violated the holiness of the site during 2012, this according to the occupying police force. The occupiers are proud of this large number, and say in fact that they want to double the number of visitors within a few years," the statement said.
"Such plans endanger Al-Aqsa by making it a target for direct Israeli occupation," the statement said. "The Al-Buraq Wall along with the entire area around Al-Aqsa, including the Mugrabi neighborhood (the term used by the group for the Jewish Quarter of the Old City of Jerusalem), destroyed in 1967, is holy Muslim land, and an inseparable part of the Al-Aqsa property," the statement added.