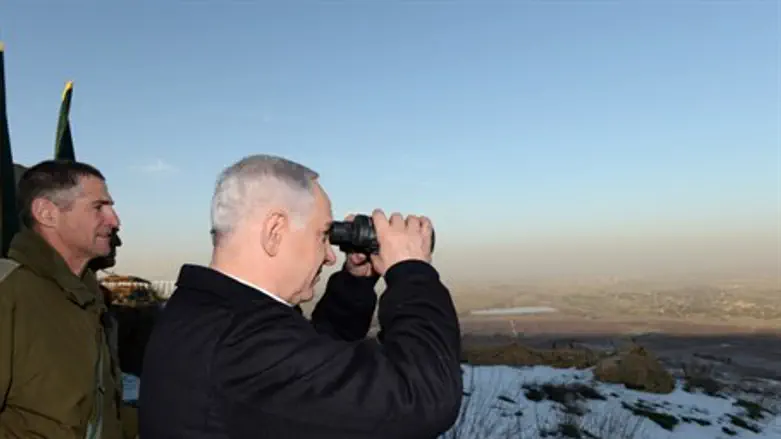 Netanyahu visits Golan Heights
Israel news photo: Flash 90
Israel has given the green light to drill for oil on the Golan Heights.
A license to explore for the liquid black gold was authorized for the U.S.-Israeli energy company Genie, headed by former Cabinet minister Effie Eitam.
Former U.S. vice president Dick Cheney is an adviser to the project, according to the Globes business news service, which said media mogul Rupert Murdoch is among the shareholders. 
"Awarding a drilling license on the Golan could cause an international fracas, given the Golan's status as occupied Syrian territory under international law," Globes commented.
The move raises concerns especially ahead of the upcoming visit to Israel by U.S. President Barack Obama, AFP reported. 
Israel conquered the strategic Golan Heights – a spot from which Syrian snipers constantly fired upon Jewish farmers working the land on the Israeli side of the border in in kibbutz fields down below --during the 1967 Six Day War. 
After repeated attempts failed to result in a peace agreement with its Syrian neighbor, in 1981 the Jewish State annexed the region in a move that was never recognized by the international community.
Some 20 years ago, Israel halted all oil exploration in the area in the hope of facilitating Middle East peace talks, believing Syria might be willing to come to a land-for-peace agreement -- but no progress was ever made.