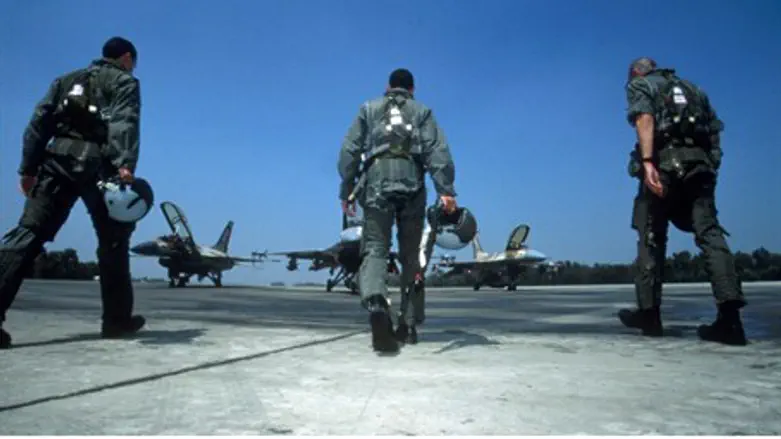 Israeli pilots board F16s (archive)
Flash 90
The question of what would happen if a female soldier fell into captivity should be part of the IDF dialogue on women in the military, Brigadier-General (res.) Ran Pekar said, speaking to Arutz Sheva.
Pekar, a former senior Air Force commander, spoke specifically about female combat pilots. Pekar did not rule out the possibility of women flying IAF warplanes, but said all the possibilities should be examined.
"I always said that women can be pilots like men, if they have the qualities a pilot needs," he said. "But there is one serious problem, I wouldn't want to see a female pilot fall into captivity.
"I had [male] pilots who were taken captive in Syria," he added. "In every other aspect a woman could be a pilot, but this issue needs to be discussed in government, it needs to be taken seriously."
Pekar also spoke of Tzahala, a program he established to help motivate Israeli youth, and particularly troubled youth, toward meaningful IDF service. The program's volunteers find and "adopt" groups of young people "and learn with them about values, friendship, love of one's fellow man, our right to the land and of course the importance of the IDF," he explained.
The program started  20 years with 12 youths in Yafo, he recalled. "Today we have 7,000 graduates, young men and women from Nahariya to Eilat," he said.
Pekar has also written two books. His latest book, Yoman Mivtzaim, hit the shelves just days ago.