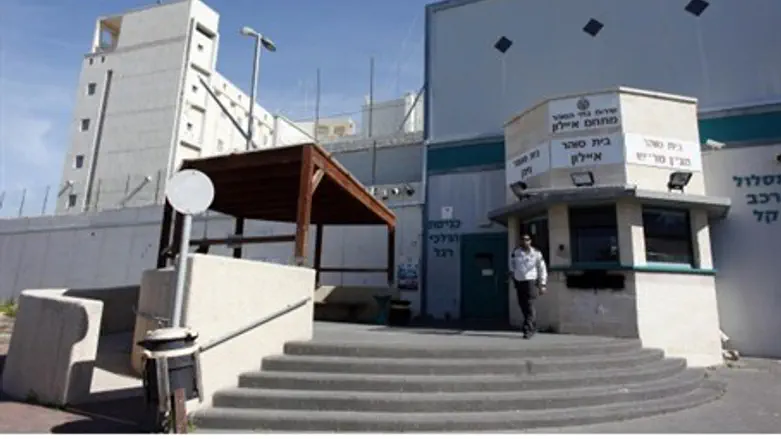 Ayalon jail, where Zygier was held.
Reuters
Israel is considering reducing the gag order that was imposed on the "Prisoner X" affair, Internal Security Minister Yitzchak Aharonovitch said on Monday.
Speaking at the Knesset plenum, Aharonovitch said that the gag order could be partially lifted shortly.
"Prisoner X" has been identified by foreign media outlets as Ben Zygier, an Australian who committed suicide while in Israeli prison in 2010. Israel, however, has admitted that such a prisoner existed but has not officially identified him by name.
During his Knesset speech Aharonovitch rejected claims that Israel conducted itself improperly in the "Prisoner X" affair, and stressed, "Israel does not have detainees which disappear. Israel has control, monitoring, and strict maintenance of the laws and regulations."
The prisoner "was being held under a pseudonym ​​with his full consent. The reason for the pseudonym was to protect national security, as well as to ensure the safety of the detainee and his family," the minister added.
On Monday, the Australian news outlet ABCclaimed in a report that Ben Zygier, the suspected Mossad agent, "was arrested by his own spymasters after they believed he told Australia's domestic intelligence agency about every aspect of his work with the Israelis."
According to the outlet, which broke the Zygier story, Zygier met with officers from Australian intelligence agency ASIO in Australia and gave them "comprehensive detail" about a number of Mossad operations, including plans for a top-secret mission in Italy that had been years in the making.
On Sunday, a report in the Australian Brisbane Times revealed that Zygier planned to disclose details of Israel's use of foreign passports for Mossad agents. Reports in the Arab media said that Israeli citizens had used foreign passports, especially Australian passports, to carry out the assassination of Mahmoud al-Mabhouh, a top Hamas terrorist, in Dubai three years ago. Reports said that among the team that eliminated Mabhouh were four people with Australian passports.
Meanwhile, Israel's Channel 2 quoted a senior security source Sunday as saying that Zygier had indeed committed suicide in prison – out of shame. "We did not persecute Zygier," the source said. "He died because he was ashamed. We would have been prepared to make a deal to  send him to prison for several years, provided he assisted in cleaning up the mess he left behind." Zygier apparently preferred death, the source said.
The State Prosecutor is considering making public the report which determined that Zygier committed suicide while in prison.
The report in question was authored by Justice Daphna Blatman-Kedrai, president of the Rishon Lezion Magistrate's Court, and it concluded that the cause of Zygier's death was suicide. Zygier's file was later passed to the state prosecution to determine if there had been criminal negligence in the case.