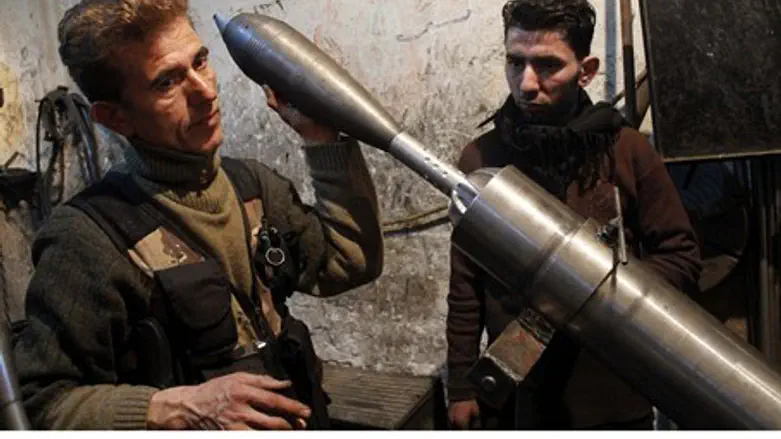 A Free Syrian Army fighter holds an improvise
Reuters
European Union foreign ministers on Monday stopped short of meeting Britain's demand to lift an arms embargo on Syria but agreed to allow "non-lethal" aid and "technical assistance" to the opposition.
"We would've gone further, some were against. This is a compromise," said British Foreign Secretary William Hague at the close of talks with his 26 EU counterparts.
After weeks of "divisive" talk on whether to arm Syria's rebels, the ministers in a lengthy session agreed to renew sanctions against President Bashar al-Assad until the end of May, AFP reported. 
Among other things, sanctions bar the supply of any lethal weaponry to the country -- regime or rebel.
However, the ministers did agree to amend the sanctions slightly, "so as to provide greater non-lethal support and technical assistance for the protection of civilians," an EU statement said.
Hague said details on goods or expertise -- such as trainers, helmets or protective clothing -- likely to flow to Syria would be issued in the coming days, and EU foreign policy chief Catherine Ashton said legal experts would ensure the change was in line with common policy.
"It's not about military support," said Ashton. "It's about how to make sure to give the best possible support to the protection of civilians."
Hague however said the agreement to amend the arms embargo "establishes an extremely important precedent."
The agreement to aid the opposition comes at the same time that new calls were made for the International Criminal Court to launch a probe into war crimes in Syria.
The conflict, which has been raging for close to two years, has claimed the lives of almost 70,000 people and has destroyed entire towns and villages. 
Amid these developments, President Bashar al-Assad said he is still confident his troops will emerge victorious.
According to reports published in Lebanon's pro-Damascus newspaper As-Safir, Assad met with unnamed Lebanese politicians in Damascus and assured them that Syria's future belonged to his camp.
"We are sure we will win, we are reassured by the political and military developments," Assad was quoted as telling the visiting politicians.
"We are convinced that the future is ours... Syria has the willpower to defeat the conspiracy," said Assad, according to As-Safir.
He said those "loyal" to his regime "represent the absolute majority of Syrians".