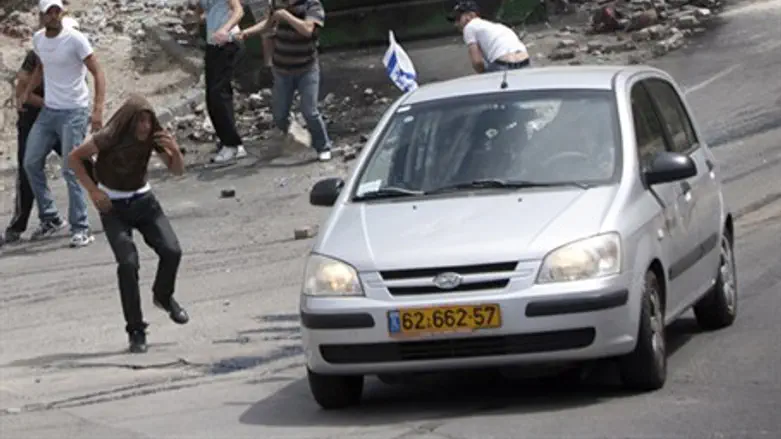 Arabs stoning an Israeli vehicle
Flash90
Recent acts of aggression by Arabs towards Jews in various communities in Judea and Samaria have caused alarm among many residents, fearful that acts of violence such as stone throwing are making way for bolder moves intended on inflicting even more damage. 
Incidences of violence such as stones being thrown and molotov cocktails being hurled at Jewish residents are reported daily, yet one resident of Pnei Kedem told Arutz Sheva that he experienced - and has heard numerous stories of - Arabs who no longer hide behind trees and throw stones but run out towards cars with clubs and bats in their hands, smashing windows and causing severe damage and injuries.  
Michael Lurie spoke about his nightmare ordeal when he was ambushed last Friday, on his way home from Jerusalem, by Arabs wielding massive stones who were waiting on the side of the road for a target to strike. 
Lurie said that about three hundred yards from junction 'T', just 15 minutes away from his home,  three boys ran on to the road "with death in their eyes and huge stones and smashed two of the car's windows."
Lurie spoke about the shock he felt the moment he was attacked, saying, "It takes a second and a half until you understand what's happening. You're In shock. You panic and you're in shock, and then I see boys jumping. They were close. They were hiding in an olive grove nearby."
Speaking with fellow residents, Lurie said that some have experienced the same thing firsthand and many have heard of similar incidences of Arabs hiding behind trees near the road and instead of throwing stones they choose even more aggressive acts of violence and run on to the road with rods, clubs or heavy stones and begin to smash car windows and attempt to injure the drivers and passengers. 
Lurie believes the solution to this problem lies in the removal of olive trees and anything else on the side of the road that can be used as a hiding spot for a group of violent people set on ambushing drivers, yet he added that even if these hiding spots were removed he is confident Arabs will find new ways to attack Jewish drivers.