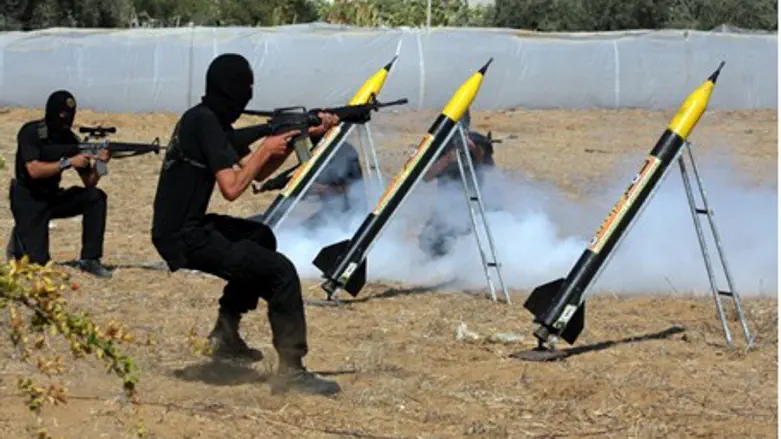 Hamas terrorists fire rockets at Israel
Flash 90
Hamas denied over the weekend that it was holding secret talks with Israel regarding opening the Rafiah border crossing between Gaza and Egypt.
Fawzi Barhoum, a Hamas spokesman, denied that his movement was engaged in direct or indirect talks with Israel, the Al-Qassam website which is affiliated with the terror group reported.
Barhoum said, in a press release published on his Facebook page on Saturday, that what the Israeli media had published in this regard was nothing more than follow up on the ceasefire agreement that was brokered with Egyptian mediation.
He said that the Hamas government in Gaza was maintaining talks with Egyptian officials to discuss implementation of articles in the agreement, including opening of crossings and entry of goods and construction materials.
On Friday, Israel's Channel 2 News reported that Israel has been holding secret negotiations with Hamas since the end of the Pillar of Defense counterterrorism operation in November..
According to the report, the Egyptian-mediated talks are being held as part of the ceasefire reached between the sides at the end of the operation and which stipulated that both sides will refrain from attacking one another and the sides will work to reach understandings.
Channel 2 News indicated that an Israeli delegation that arrived in Cairo on Thursday came to Egypt for the purpose of holding talks with Hamas, through Egyptian mediators.
The report indicated that according to the understandings reached between the sides, Israel will agree that the Rafiah border crossing between Gaza and Egypt be opened for the passage of commercial goods and construction materials.
Despite the constant claims by Gaza's terrorist rulers that Israel is imposing a "siege" on the region, Israel has consistently allowed humanitarian aid into Gaza, approving internationally funded and monitored projects in the region. Since 2011, 235 projects have been approved. In September 2012 alone, 16 new projects were approved.
With Israel tightly supervising the materials which enter Gaza through its border crossings and with the borders with Egypt being closed, Hamas has smuggled in materials, including weapons and explosives, through underground tunnels which connect between Gaza and Egypt.
The terror group is making at least a million dollars a day in "tax" money from Gaza smugglers, providing "protection" to smugglers and collecting payments for the service, then using the smugglers to order goods for their own use.