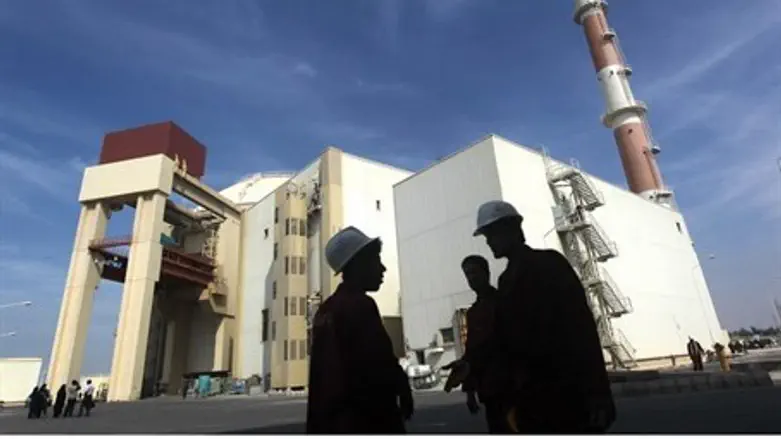 The Bushehr nuclear power plant in southern I
AFP/Mehr News/File
The West plans to offer to ease sanctions barring trade in gold and other precious metals with Iran in return for Iranian steps to shut down the Fordow uranium enrichment plant, officials told the Reuters news agency on Friday.
The officials said the offer will be presented to Iran at upcoming talks with world powers on February 26 in Almaty, Kazakhstan. They acknowledged that it represents a relatively modest update to proposals that the six major powers put forward last year.
The officials added that the decision not to make a dramatically new offer in part reflected skepticism that Iran is ready to make a deal ahead of its June 14 presidential election.
The group, which includes Britain, China, France, Germany, Russia and the United States and is known as the P5+1, wants Iran to do more to prove that its nuclear program is for only non-military purposes and to permit wider UN inspections.
The core of the new offer, according to Reuters, revises last year's demand that Iran stop producing higher-grade uranium, ship any stockpiles out of the country and close down its underground enrichment facility at Fordow, near the city of Qom.
One official told the news agency that the proposal "is remarkably close to the old one", describing it as "a way to test whether they are serious or not."
At the most recent talks, in Moscow last June, Tehran rejected P5+1 calls for it to scale back its uranium enrichment activities, while also asking for relief from sanctions that began to bite in 2012.
Iran's top nuclear negotiator, Saeed Jalili, recently welcomed the return of the P5+1 to talks over the country's disputed atomic program, but urged them "not to repeat their past mistakes."
According to the IAEA's November report, Iran has increased the number of centrifuges at Fordow, an underground plant that could be largely impervious to attack from the air, by 644 to 2,784 since mid-August.
The added inducement for Iran in the new offer is to suspend sanctions on trade in gold and precious metals, something that could be used as part of barter transactions that might allow Iran to circumvent increasingly tight financial sanctions.
The officials described their new proposal as "more for more", meaning that they are seeking more steps to curtail Iran's nuclear program in exchange for greater inducements on their part, but they admitted it is not a dramatic shift.
The punitive economic measures on Iran have led to a severe economic crisis, choking the Islamic Republic's banking system and limiting oil exports, its main foreign revenue earner.
A recent report to Congress indicated that Western sanctions on Iran have contributed to a drop in the Islamic Republic's access to global sources of capital last year.
Foreign banks cut their lending exposure to Iran by the equivalent of $9.1 billion in 2012, down 53 percent, according to the U.S. Treasury department's report.
Iranian President Mahmoud Ahmadinejad had steadfastly denied that the sanctions are hurting the economy, until Iranian Oil Minister Rostam Qasemi broke ranks and admitted that the sanctions have sliced oil exports by 45 percent.
(Arutz Sheva's North American Desk is keeping you updated until the start of Shabbat in New York. The time posted automatically on all Arutz Sheva articles, however, is Israeli time.)