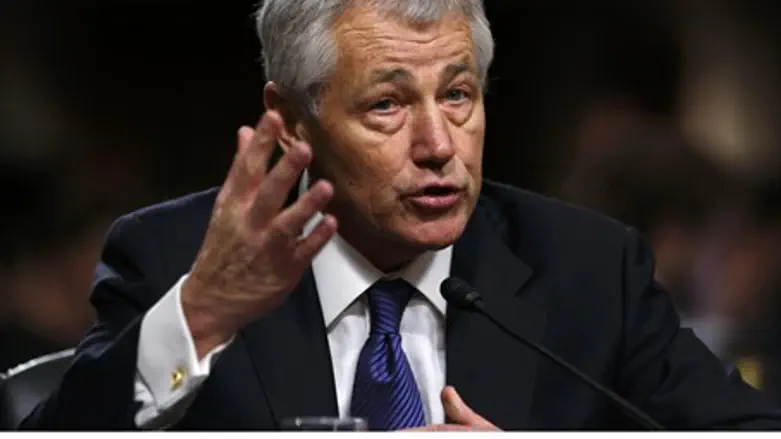 New reports indicate Hagel did not hand over
Reuters
As the Senate takes its time voting on the confirmation of Chuck Hagel for Defense Secretary, new reports indicate that the controversial nominee failed to disclose damning Senate speeches he delivered to  contentious groups known for their anti-Israel bias. 
Fox News Channel earlier in the week aired reports of two speeches that Hagel gave in connection the the Israel-Arab conflict and of which he failed to hand over transcripts or notes. As part of the confirmation hearings, the nominees must hand over transcripts and notes of all speeches, whether they are official or informal, for Senate review. 
Fox News found two speeches -- a 2007 speech delivered to Rutgers University's Center for Middle East Studies and another 2007 speech given to the National Council on US-Arab Relations -- which were not among the filings handed over by Hagel. 
Notes from the Rutgers speech, obtained by the Free Beacon, have Hagel saying that the U.S. Department of State is controlled by Israel.
Republican political consultant and Hagel supporter George Ajjan wrote about the speech on his website the following day, giving a "point by point through some of the more important elements of his speech."
According to his report, Hagel's exact words were, "The State Department has become adjunct to the Israeli Foreign Minister's office." 
Ajjan's reaction to the statement describes the impact Hagel's words had on the crowd:
"Wow. A very bold statement by Hagel bound to further raise the ire of the "Jewish Lobby" (yawn…), but it does express his strong belief in a comprehensive solution to problems in the Middle East...comprehensive in the James Baker sense of addressing the Arab-Israeli conflict holistically as both Bill Clinton and George W. Bush have proved too lazy and too incompetent to do," he wrote.
Fox News obtained a partial recording of Hagel's address to the National Council on US-Arab Relations (NCUSAR), described by the Investigative Project on Terrorism as "a de facto propaganda arm of the Arab world." 
Asked about Washington's role in achieving peace between Israel and the Arabs, Hagel responded, "[T]here's no question in the Arab-Israeli issue that Israel is a nation today as a result of the United States" and went on to say that American support for Israel cannot exist "at the sacrifice of our friendships with the Arabs."
Conferences hosted by the group have reportedly featured speakers who have accused Israel of waging campaigns of "ethnic cleansing" and "genocide," Fox claimed.