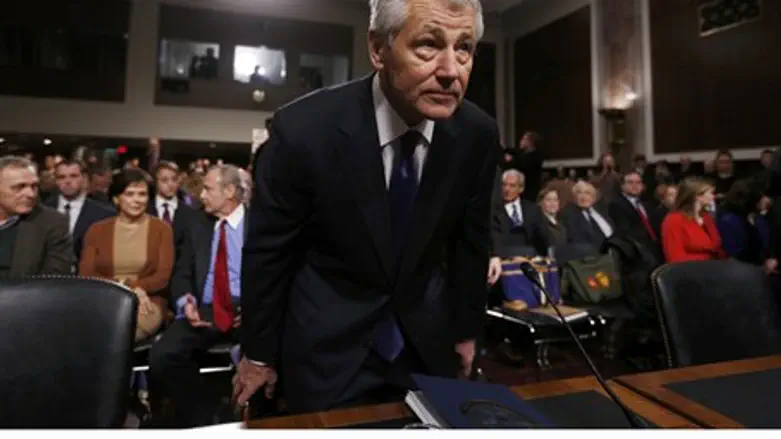 Hagel's confirmation has been met with fierce
Reuters
The White House raised the stakes Thursday in its battle to appoint a new defense secretary, accusing Republican lawmakers blocking the appointment of sending a bad signal to US war allies.
President Barack Obama's choice for the post, former senator Chuck Hagel, must be confirmed by the Senate and a senior Democrat told AFP he was not sure his side had the votes to overcome an almost unprecedented filibuster, AFP reported.
White House spokesman Joshua Earnest said the delay had jeopardized Hagel's planned appearance at a NATO ministerial meeting next week in Brussels with US NATO allies to discuss the pull-out from Afghanistan.
"It is difficult to explain to our allies exactly why that is happening. It also sends a signal to our men and women in uniform," Earnest said.
"We need our new defense secretary to be there," he said, branding the Republican procedural tactics "unconscionable."
Before allowing a vote, the Republicans opposing Hagel's nomination want more information on his finances and also on Obama's role in responding to an attack on the US consulate in Benghazi last year.
Senate Democratic majority leader Harry Reid has responded by forcing a vote on the nomination, but will need five Republicans to get to the 60-votes needed to overcome the blocking tactics.
Without such a filibuster, presidential nominations require a simple majority of senators in the 100 seat chamber.
Reid accused Republicans of acting like children over Hagel, saying it was "shocking" they would do so while the United States was at war.
"The filibuster of senator Hagel's nomination is unprecedented," Reid said. "For the sake of our national security, it's time to put aside this political theater -- and that's what it is."
Carl Levin, chairman of the Senate Armed Services Committee told AFP that it was unclear whether Hagel would get the 60 votes.
"We don't know ... you're never sure until the vote," said Levin.
Hagel's chances appear to rest with his one-time friend and colleague Senator John McCain, who eviscerated him in a committee confirmation hearing and has not yet made clear whether he would support a filibuster.
Some Republicans who oppose Hagel have said they would not take the step of blocking an up or down vote on the nomination -- opening the possibility that the blocking maneuver could eventually fail.
If confirmed, Hagel would replace outgoing Pentagon chief Leon Panetta at a time of rising tension in Middle East hotspots, budget battles at home and after this week's rogue nuclear test by North Korea.
Panetta will spend his last day at work on Thursday before returning to his home in California, though will formally retain the responsibilities of Defense Secretary until his successor is confirmed.
Several Republicans have taken issue with Hagel's public stances in recent years on Iran, nuclear weapons, Israel and the US troop surge in Iraq.
They have demanded financial compensation data and transcripts from speeches Hagel gave to foreign audiences, saying some records are missing.
The White House says it has exhaustively cooperated with Republicans on investigating the Benghazi attack, which killed four Americans.