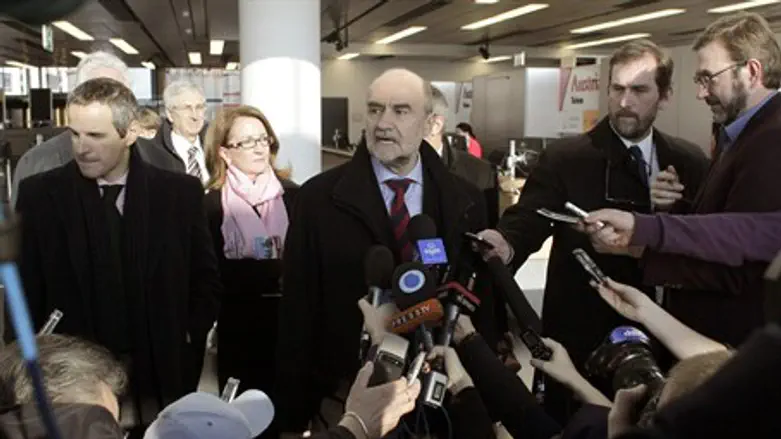 IAEA deputy head and delegation to Iran
Reuters
The International Atomic Energy Agency has failed to reach a deal with Iran on investigation suspected nuclear bomb research, let alone halting – or even slowing down – the country's nuclear development activities. Herman Nackaerts, deputy director-general of the United Nations agency, told reporters the IAEA delegation had failed to convince Iran to allow the inspection of its nuclear program.
Nackaerts and his team returned to Vienna Thursday, after one-day talks in the Iranian capital broke down. He added that he was committed to continuing the effort but needed more time to consider the best way to move forward.
As international diplomats and other delegates continue their attempts to "reason" with Tehran, however, Iran is pushing ahead with its nuclear development program at a brisk pace.
Evidence has shown the Islamic Republic made a recent attempt to purchase 100,000 magnets that are used in the centrifuges to enrich uranium, according to a report released Wednesday by the Institute for Science and International Security (ISIS). The new orders for the magnets coincided with plans to add thousands of more advanced, second-generation centrifuges that will enable Tehran to increase its uranium enrichment activities, analysts told the The Washington Post in an article published Thursday. Although not the first attempt to purchase banned items from foreign vendors, this time Iran's deal hit the radar because of the order's specificity and size.
Iran is poised to "make a lot of nuclear progress quickly," warned an unnamed European diplomat quoted by The Washington Post following the release of the ISIS report. "Each step forward makes the situation potentially more dangerous." 
The Islamic Republic made a point of scorning as a "laughing matter" similar warnings on Monday by Israeli Prime Minister Binyamin Netanyahu, who said Iran is now closer to crossing the "red line" after which it will be able to build a nuclear weapon. 
Netanyahu added that Tehran had not yet reached that stage, and appealed to the international community for "stronger pressure and harsher sanctions" in order to prevent Iran from reaching that goal.