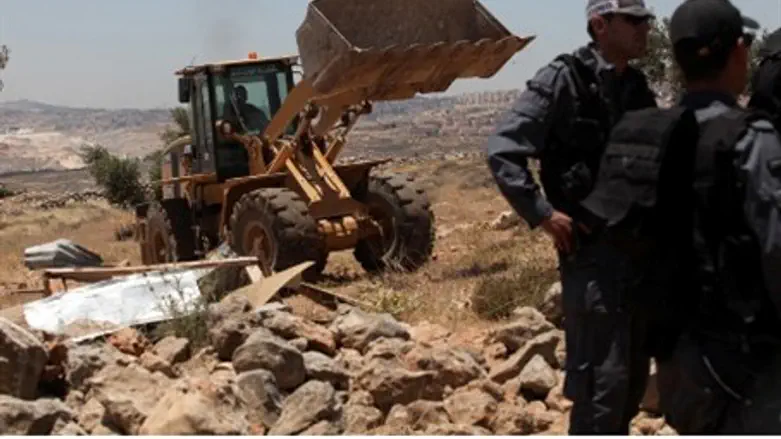 Demolition at Ramat Migron (archive)
Israel news photo: Flash 90
Two Jewish protesters in Samaria (Shomron) were arrested Wednesday in a solidarity demonstration supporting Jews being expelled from their caravan homes in Ma'ale Rehavam, a Judean community located in the hills of Gush Etzion, south of Jerusalem.
The demonstration by some 60 activists briefly blocked the entrance to the Palestinian Authority capital of Ramallah, located next to the Jewish town of Beit El in Shomron, north of Jerusalem.
The protesters were expressing their solidarity with the residents who were being left homeless by the demolition Wednesday morning after Israeli security forces demolished the six caravan homes. One person at the Ma'ale Rehavam site was arrested for resisting the expulsion effort, while the homes were destroyed. By 1:00 p.m. the site was leveled, sources said. 
Protesters in Shomron expressed their anger at the expulsion by reportedly smashing windows of vehicles bearing PA license plates, and slashing the tires of the cars, a source said. 
At least two of the rioters were arrested and taken for question to the Binyamin regional police station. They are being represented by the Honenu legal aid organization.
The crowd was dispersed by Israeli security forces.