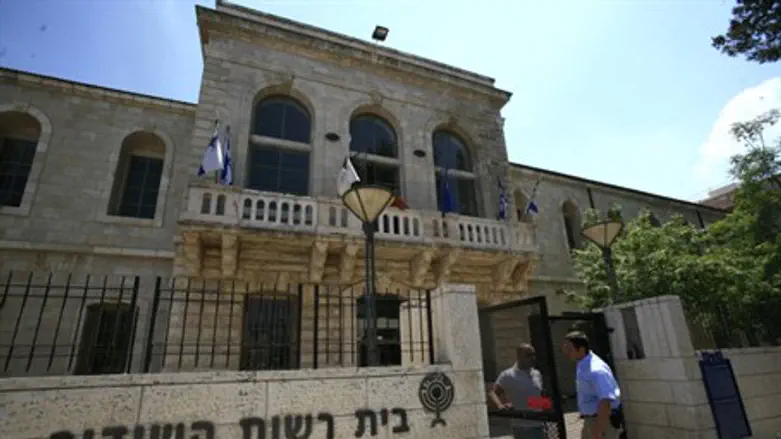 IBA headquarters
Flash90
After seemingly endless delays, a long-coveted reform in Israel's public broadcast network – the Israel Broadcasting Authority, or IBA – is finally set to be launched. An agreement was finalized Sunday between representatives of IBA management, the Communications Ministry, and unions representing the workers.
IBA workers, aware of the existing featherbedding, had for years resisted the notion of reform, fearing that many of them would lose their jobs – and as they predicted, many of them will. The agreement calls for the elimination of jobs for 750 of the IBA's 1,800 workers, with 570 of them to be eliminated in the coming months, either through attrition or employee buyouts. The IBA believes that some 300 workers will volunteer to leave their jobs.
The reform also includes changes in management, with dozens to be let go, as well as organizational change. Dozens of top IBA managers have for years appeared on lists of the highest paid government workers, and the government is demanding that those high-priced managers either take drastic pay cuts or look for work elsewhere. The IBA has also promised to be more frugal in its outlays, staying away from big-budget foreign productions that have "blown the budget" for the network several times in the past.
The road to reform has been an extremely long one, with IBA workers conducting fully-fledged strikes, by-the-book slowdowns, sit-ins, walkouts, and numerous other tactics to express their dissatisfaction with the changes. However, the new IBA CEO, former newsman Yoni Ben Menachem, made it clear to the union that if they did not accept the reforms, the government was likely to shut down the network – television and radio – altogether.
There's also a benefit for the average Israeli – a lower "TV tax." By law, every Israeli who owns a TV set is required to pay the annual television permit fee, which comes out to about $150 per year. Many have complained over the years that the tax is onerous, and unfair – among other reasons, because IBA news and analysts over the years have traditionally had a leftist liberal bent, driving many right wing viewers away from the network, but still requiring them, by force of law, to pay for content that they did use or even want. With the reform, IBA officials said, the permit fee should fall in the coming years, although they did not supply details on how much and when.