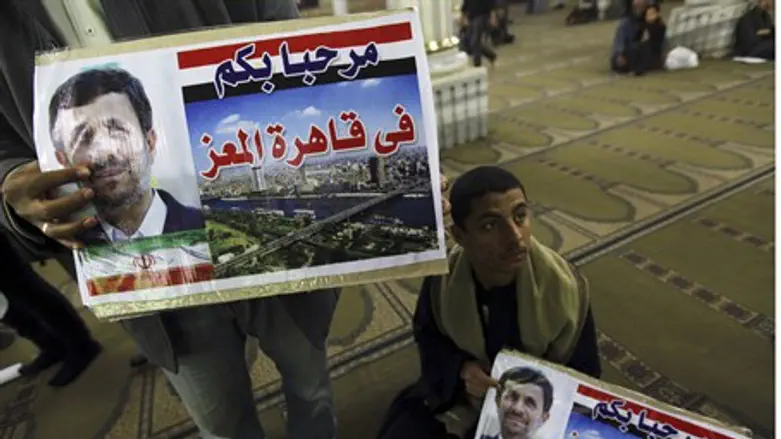 Sunni Egyptians protest Ahmadinejad's visit t
Reuters
Egyptian security forces arrested four men outside a mosque in Cairo for trying to attack Iranian President Mahmoud Ahmadinejad during his visit to the country, NBC News reported.
The men, including a Syrian, belonging to the ultra-conservative Sunni Salafist movement, attempted to attack the Iranian leader outside the central Al-Hussein mosque in Cairo.
One of the men threw a shoe at the Shiite Iranian president, whose visit to Egypt has been widely denounced by the country's Sunni Muslims. 
According to NBC News, the Al-Hussein Mosque is revered by Shiite Muslims, who are widely abhorred by conservative Sunni Muslims, including members of President Mohammad Morsi's Muslim Brotherhood.
Ahmadinejad's visit marks the first visit of an Iranian president to Egypt in over thirty years, since the 1979 Iranian revolution ruptured diplomatic ties between the two countries.
The Iranian president, in Cairo for the Organization of Islamic Cooperation conference, met with the top Sunni religious functionary in Egypt, Sheikh Ahmed a-Tayib of the A-Zahar Mosque, who demanded that Ahmadinejad stay out of the affairs of Sunni countries,
"The Shi'ites must not influence the affairs of Sunni states in the Gulf," he said.
In response, Ahmadinejad maintained the importance of advancing "the unity of Islam and work out the historic differences between Sunnis and Shi'ites."