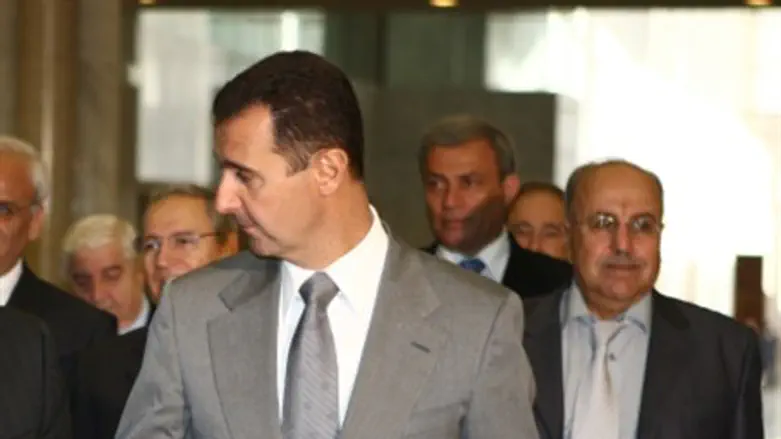 Syrian President Bashar Assad
Israel news photo: Flash 90
Arab League chief Nabil al-Arabi on Tuesday backed a call by the leader of Syria's main opposition group for talks with the Damascus regime aimed at ending nearly 23 months of bloodshed in the country, AFP reported.
Arabi also offered to play a role in any negotiations for a democratic transition in Syria, where tens of thousands of people have been killed in the fighting between rebels and President Bashar al-Assad's forces.
According to AFP, he expressed hope that "the Syrian government would respond positively to the proposal" made by Ahmed Moaz al-Khatib, saying it would "take advantage of every opportunity to break the cycle of violence and to end the bloodshed."
Arabi appealed for a transition agreement for "real change that meets the legitimate aspirations of the Syrian people for freedom, democracy, social justice and human dignity".
The bloc was ready to "provide all the support... needed to facilitate the holding of dialogue and help the Syrians out of the tunnel of this crisis, and spare it and the region the dangers of its painful consequences," he added, according to AFP.
Ahmed Moaz al-Khatib, head of the opposition umbrella group the National Coalition, announced last week he was willing to hold talks with the Assad regime, subject to conditions including the release of 160,000 detainees.
On Monday he urged Assad's regime to respond positively to his call for talks, saying, "The ball is now in the regime's court. They will either say yes or no."
Assad himself has yet to comment on the offer, but the pro-regime newspaper Al-Watan said on Tuesday it came two years too late.
"Despite their importance, the statements of Sheikh Moaz al-Khatib are two years late. During that time, our finest young men have died, suffered wounds or been exiled, while we have lost our electricity and fuel infrastructure, alongside several military positions," the daily said, according to AFP.
"So the ball is not in the Syrian state's hands, as Khatib said."
As well, the Syrian National Council, the main component of the Coalition, rejected the possibility of any talks, saying it was committed to ousting the regime, rejecting dialogue with it, and protecting the revolution.
On Saturday, Khatib met with Russian Foreign Minister Sergei Lavrov. Moscow, which has supported Assad throughout the civil war in the country, later said it wanted to keep in regular contact with the Syrian opposition.