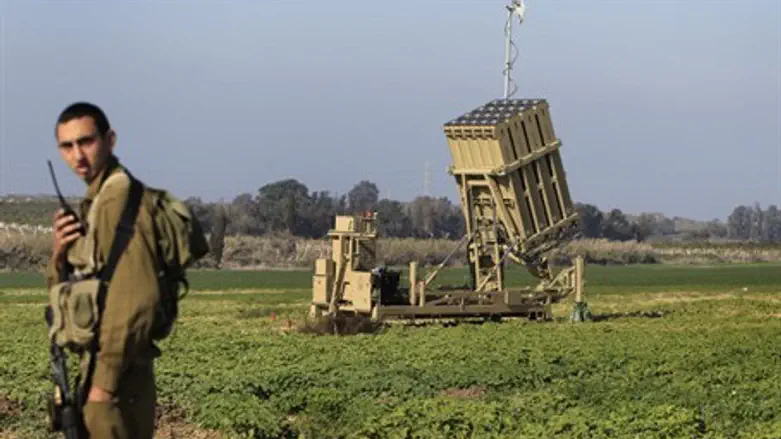 Iron Dome system
Israel news photo: Flash 90
Israel has deployed a third Iron Dome anti-missile defense system in the northern part of the country, Israeli media said on Tuesday.
"The deployment of several Iron Dome batteries in the north of the country comes as part of the setting up of the system," an army spokesman was quoted as saying.
Last week, Israel placed two Iron Dome systems in multiple locations in the north, including in the Haifa area. The move came in response to increasing concerns that Syrian President Bashar al-Assad may lose control over the chemical weapons arsenal in the country.
Tuesday's deployment comes less than a week after an alleged Israeli airstrike in Syria.  The strike targeted a military complex near Damascus that a U.S. official later said contained surface-to-air missiles, and an adjacent facility said to house chemical weapons.
Israel has not commented on the attack, and has not officially confirmed its involvement, although on Sunday Defense Minister Ehud Barak hinted at the possibility that Israel did carry out the attack.
Iran, Syria's closest ally, said on Monday that Israel will regret its latest "aggression against Syria".
"Just like it regretted all its wars... the Zionist entity will regret its aggression against Syria," said National Security Council head Said Jalili.
Assad said on Sunday that Israel's purpose in attacking Syria last week was not self defense, but "an attempt to shake the stability of Syria."
Israel "attacked a scientific center, and this reveals Israel's real purpose and its collaboration with Syria's enemies," Assad said. "Syria can deal with the aggression against it," he said.