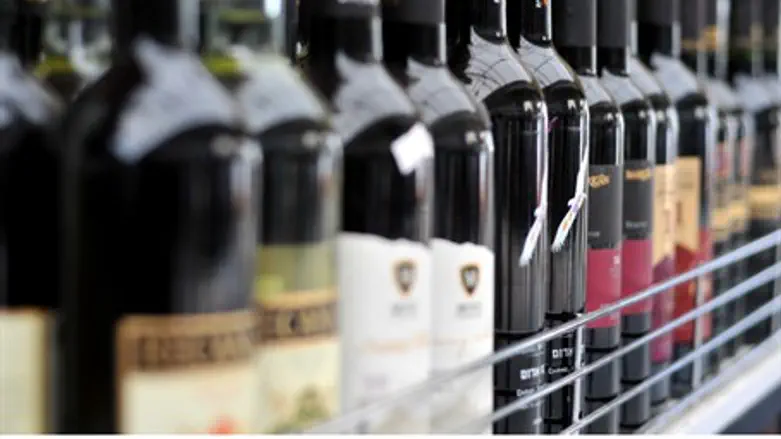 Wine (illustrative)
Israel news photo: Flash 90
Arutz Sheva was at the second annual Wine Seven Two kosher wine exhibition, which took place last week at Binyanei HaUma in Jerusalem.
More than 80 different wines from dozens of wineries throughout Israel and the entire world were launched during the exhibition, which featured under one roof a collection of hundreds of kosher wines from the best wineries. Over 45 Israeli wineries took part in the exhibition.
"In the past year several small vineyards have become kosher and this is the first year that you can taste their wines," said Roi Carmeli, a member of the managing staff of Wine Seven Two.
He added, "Lots of wineries here in Israel are becoming kosher due to high demand and because people who eat and drink kosher want better quality wine. This is part of the wine revolution that is ongoing here in Israel."
Among the many Israeli wineries that took part in the exhibition were quite a few wineries from Judea and Samaria, an area known for its many vineyards and award winning wineries. Last summer the Shomron Regional Council launched an alliance between Shomron winemakers and the Italian Winemakers Association.
Menachem Livni, owner of the Livni Winery near Hevron, told Arutz Sheva that the rain that falls in Judea in the winter, combined with the dryness of the Judean Desert in the summer, "results in a beautiful wine."
A wine is designated as kosher if, in addition to rabbinical supervision of the ingredients, it has been handled -- from the vine to the wineglass -- only by Sabbath-observant Jews, or has been heated to 185 degrees F, called mevushal. Some claim that the heating affects the taste, but producers have developed flash-pasteurization techniques that minimize this. Kosher wine bottles have the words mevushal or lo mevushal. on them. In the latter case, the wine is kosher only if a Sabbath-observant Jew opens and pours it, a halakha partially based on the use of wine in idol worship.