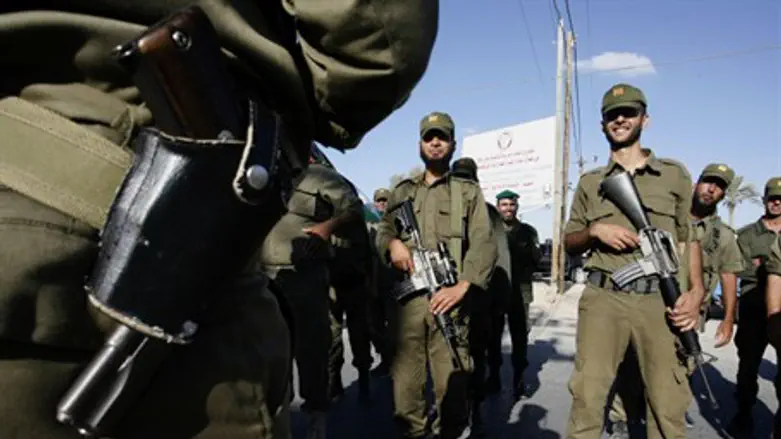 Hamas terrorists in Gaza
Flash 90
The number of terror attacks against Israeli citizens was down in January, according to statistics released Monday by the Israel Security Agency (Shin Bet).
The Shin Bet noted in its monthly summary that a total of 83 attacks were recorded in January of 2013, showing a decline in the number of attacks, as opposed to 112 attacks in December 2012.
January saw no attacks from Gaza as opposed to one attack in December, noted the summary. There has been also a decline in the number of attacks in Judea and Samaria: 56 attacks as opposed to 81 in December. Jerusalem also saw a slight decrease: 27 attacks as opposed to 30 in December.
Three Israelis were injured during attacks in January, noted the summary: an Israeli citizen was moderately injured in a stabbing attack in Samaria on January 29, and two security officers were injured in Judea by a firebomb near Al Aroub on January 3 and stone throwing in the nearby area of the Tomb of Rachel on January 13.
In Jerusalem and the Judea and Samaria area, most of the attacks executed in January - 70 out of 83 - were in the form of firebombs, compared to 98 out of 111 in December.
Seven of the terror attacks were in the form of an improvised explosive device (IED); five were small arms shooting; one was stabbing; 70 were firebombs,  27 of which were in Jerusalem.
Throughout January 2013 no rockets or mortar shells were launched into Israel from Gaza, as opposed to two mortar shell launchings in December 2012.
On Sunday it was reported that the Shin Bet and Border Guard had foiled on January 1 another attempt by Palestinian Authority Arab terrorists to kidnap an Israeli.
The attempted attack took place when members of the Islamic Jihad terrorist organization tried to make their way into Israel through one of the crossings from PA territory.
The terror cell was arrested in a joint operation by Israeli security personnel as its members tried to enter Israel. Two of its members are residents of the PA city of Jenin, one is from Kalansawe, another is a resident of the northern Israeli Arab city of Umm el-Fahm, and another is an inmate in an Israeli prison.
On Monday it was revealed that the Shin Bet and the IDF have arrested members of a terror gang who were involved in a shooting attack near Neve Tzuf in December 2012.
The incident occurred in mid-December. Terrorists fired about 30 shots at a vehicle driving next to the town. Nearly caught up in the crossfire was a resident of the town who was waiting for a ride on the main road. Miraculously he was uninjured.
Last week the Shin Bet said it had uncovered and apprehended a Hamas terror squad in Hevron, arresting some 20 members of the terror group's armed wing.
The Shin Bet and army arrested "approximately 20 terrorists affiliated with Hamas who were planning a kidnapping attack in order to bargain for the release of prisoners," said a Shin Bet statement.