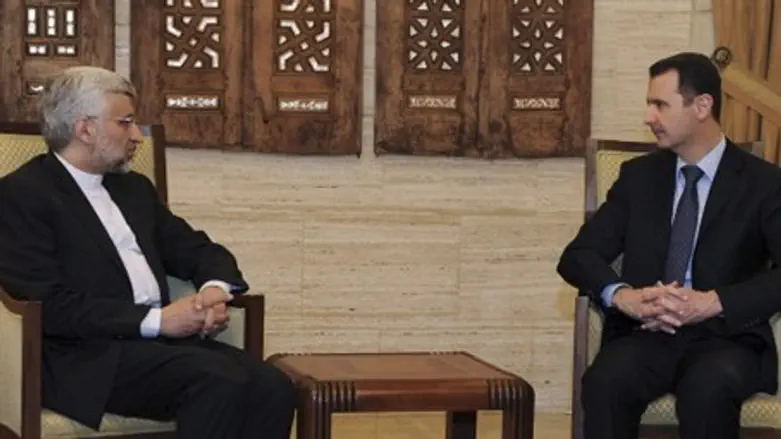 Jalili with Assad
Reuters
Israel will regret its latest "aggression against Syria", a top Iranian official visiting Damascus told reporters on Monday.
"Just like it regretted all its wars... the Zionist entity will regret its aggression against Syria," said National Security Council head Said Jalili, a day after Israel implicitly confirmed it staged an air strike near Damascus last week.
Any actions Iran decides to attempt against Israel are more likely to be carried out indirectly, through terrorists, than through direct military action.
Iran is intensifying a campaign to destabilize the Middle East by smuggling anti-aircraft weapons to militant allies through its international paramilitary force, according to Leon Panetta, the outgoing US defense secretary.
Panetta told The Wall Street Journal Saturday that Tehran's export of so-called "manpads" -- anti-aircraft missiles that can be carried by a single person – represents a dangerous escalation.
Yemen intercepted a boat carrying the weapons on January 23, with assistance from the US, which had evidence that the missiles were supplied by Iran's Islamic Revolutionary Guard Corps. The missiles were believed to be en route to Yemeni separatists fighting the US-backed central government.
"There is no question when you start passing manpads around, that becomes a threat—not just to military aircraft but to civilian aircraft," Panetta told the newspaper.